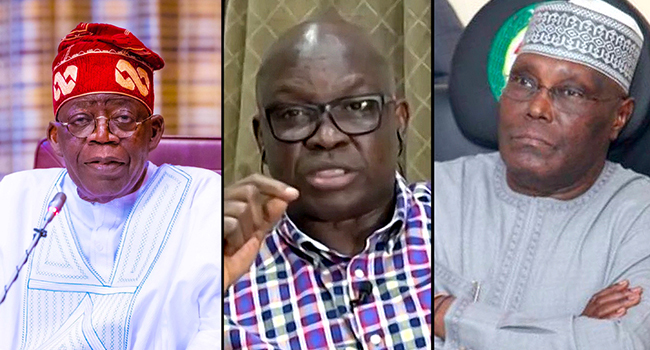 2023 Elections: Fayose reveals he worked against Atiku for Tinubu
FCG reports that former Governor of Ekiti State, Mr Ayodele Fayose, has disclosed that he worked against his party's presidential candidate, Atiku Abubakar, in the February 25, 2023 election.
FCG gathered that Fayose confirmed suspicions that he went against his party to work for the flag bearer of the All Progressives Congress (APC), Bola Tinubu, in Ekiti in the last general elections.
In REACTION, he said that he worked against Atiku "100%" because the "PDP has not been fair to me", saying if the party starts disciplinary actions against him he will seek redress in court.
"I never worked for PDP during the last election. I cannot work for two people at the same time," he said on Channels Television on Sunday, July 9..
"The reality is that I worked for Asiwaju (Tinubu). He is a respectable person from the South-West. It is the time of the South."
Fayose, expressed his grievances with the PDP, saying that the party suspended him and his son, Oluwajomiloju, despite that he has "suffered tremendously for PDP".
"The same PDP, because I said it was the turn of the South, removed my son, suspended my son, expelled my son, suspended me. For a man that has suffered tremendously for PDP?" he queried.
The ex-governor, said his party played on Nigerians by giving its presidential ticket to Atiku, an ex-Vice President who is from Adamawa State in North-East Nigeria.
Fayose argued that with the expiration of the two-term tenure of ex-President Muhammadu Buhari, who is also from the North, a Southern Nigerian should be the next President of the country.
"If PDP take action against me, I will take them to court," the ex-governor stated. "If anybody suppresses my voice, I will say things more than this."
Fayose further stated that his recent visit to the President was not connected to his court case with the Economic and Financial Crimes Commission (EFCC).
"Tinubu has no power to stop EFCC trial," he said of the case which has last five years.
In the 2023 presidential election, Tinubu won in all 16 Local Government Areas the state.