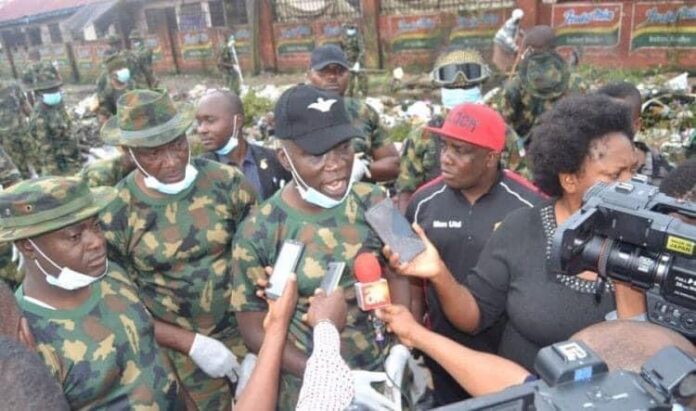 Army Discovers Bombs In Ikeja 21 Years After Blast, Begins Clearance
The army authorities have discovered explosives at the scene of the Ikeja bomb blast, 21 years and nine months after.
The explosion which occurred on January 27, 2002 at the Military Cantonment in Ikeja is believed to have killed at least 1,100 people and displaced over 20,000 with many others injured and rendered homeless.
Bombs and other explosives mistakenly went off in the Armory section of the barracks.
The explosion, which sounded about seven times, over two days, led to the destruction of properties in and around the area. It was an unprecedented occurrence, so people scampered for safety.
Speaking in Lagos Tuesday at the flag off of the "Exercise Clean Sweep", the Chief of the Army Staff (COAS), Lieutenant-General Tajudeen Lagbaja, said the army had finally commenced the movement of the remaining unexploded ordinance to one of its bases in Ajilete, Ogun State.
He said the initial clearance operation done in 2002 ensured some degree of safety in the Ikeja Cantonment and environs.
The COAS said the recent discovery of some unexploded explosive ordnances at the site of the 2002 blast raised the need for the army to carry out a follow up clearance exercise.
He said the 60+1 day exercise would be held from October 10 to December 10 and that it would involve the mobilisation of engineers' plants and other necessary equipment to the site.