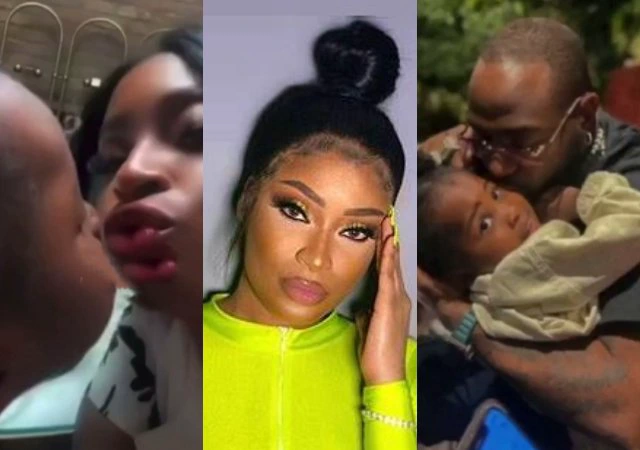 Davido's 4th Baby Mama, Larissa London, Unveils Son Dawson's Yoruba Name
FCGs reports that Larissa London, the renowned Nigerian singer Davido's fourth baby mama, recently turned to her social media platform to reveal an undisclosed fact about their son, Dawson.
FCGs gathered the London-based makeup artist, on her official Snapchat page, posted a heartwarming video of herself and her son sharing a loving kiss, melting hearts with their affectionate bond.
In the video clip, Larissa revealed her son's Yoruba name as Tunji, a name chosen in connection to her baby daddy, Davido, being of Yoruba descent from Osun state.
People on social media have responded to the soothing image of Davido and his son, Dawson, that his fourth baby mama Larissa shared.
Larissa showed off a picture of him and their kid Dawson together for the first time yesterday night.
This action comes a few days after the artist publicly acknowledged Dawson as his son during an interview with an India presenter.
In honor of Father's Day, Larissa posted photos of Davido and his son Dawson having fun together on her Instagram story.
Different social media users have responded differently to the image that Larissa shared.
@Gabc.tribe wrote, "See how God turns situations around. This is such a cute photo😍. Life is so unpredictable 😞".
@Chibuzoor: "The rejected stone is now the heir".
@Jayempire: "You all calm down is not that deep, she waited until davido acknowledged him publicly during his interview before posting both of them, the little baby is handsome❤️❤️❤️This should tell you all that davido is a good father".
@October_couture: " thought that was Imade at first, all his kids resembles each other".
@Jimimakay: "He looks like imade alot😍😍😍".