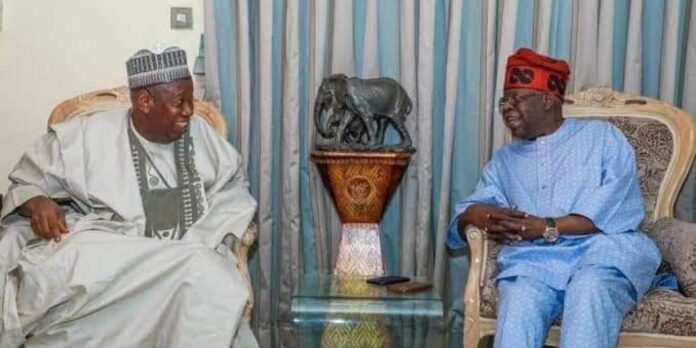 How Maryam Shetty's Name Made Ministerial List, Not Clear – Ganduje, APC Chairman
FCGs reports that the National Chairman of the All Progressives Congress (APC), Alhaji Abdullahi Ganduje, has disclosed that the social media outrage against Maryam Shetty's appointment led to her removal.
President Bola Tinubu had removed Shetty from Kano State as a ministerial nominee that was billed for screening.
FCGs from a letter to the Senate which was read by the President of the Senate, Godswill Akpabio on Friday, that the President replaced her with Mariya Mahmoud Mairiga Bunkure, a former Commissioner for Higher Education during the governorship tenure of Ganduje in Kano.
However, the former governor in an interview with select radio stations in Kano on Saturday, and as reported by Daily Trust, said Shetty was dropped because people questioned her suitability.
He added that social media is very powerful.
Ganduje explained that ministerial appointments should go to someone with integrity, knowledge, experience and commitment to the party and what the candidate contributed to the making of Tinubu's administration.
He said, "The president has advisors on selection of ministerial nominees at the national and state levels. The president has the prerogative to nominate whomever he wishes and he has the right to consult people in states because they know those capable of discharging the duties.
"Maryam Shetty's name emerged from the top, and since Mr President has the right to do as he wishes and we are his followers, one has to be patient; we did not object to it. As well, she was not well-known to us. We could not appraise her.
"But suddenly, she (Maryam Shetty) came under attack on social media. People questioned her integrity and experience, with many of them doubting her credentials to represent Kano at the national level. There were growing disaffections. The dissatisfaction is not from Ganduje, but the people of Kano.
"President Bola Tinubu's attention was drawn to the torrent of criticisms greeting Shetty's nomination. The president asked whether I had nominated Maryam Shetty. I said no. He asked how then her name appeared on the list. I told him I had no idea whatsoever.
"When he asked whether there was a need to replace her, I answered in affirmative, because the ministerial slot requires someone with integrity, knowledge, experience and commitment to the party – what one contributed to the making of the Tinubu administration. To satisfy these requirements, we are in the best position to nominate somebody from Kano. Even if someone recommended somebody, we should have been consulted on the matter.
"For this, we were given a chance to nominate someone from Kano and since the slot was meant for a female, we consulted widely. Females had contributed to our development agenda in Kano State. Dr Mariya Bunkure, my commissioner for higher education, is a certified medical doctor. Kano South had been complaining about marginalization, even though I gave them SSG and other important political offices. These are some of the reasons we gave her name.
"But at least we are happy because the people of Kano are happy with the current development. The clarification is not to insult anybody but to tell the truth of what exactly happened. People questioned her suitability that was why he was dropped, but that does not mean she will not get another appointment."