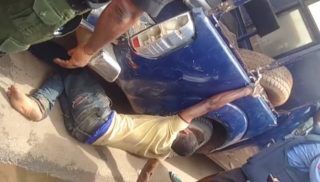 Moment Police Vehicle Runs Over Handcuffed Man In Edo (Photo)
Another Police brutality reported by FCG as The town of Ekpoma in Esan West Local Government Area of Edo State was on Thursday evening jolted as a team of policemen with their official vehicle (a black sienna bus, provided by the Edo State Government) ran over a handcuffed middle aged man who earlier asked to lie down by the policemen.
FCG gathered from a trending video that surfaced on Friday morning showed people gathered, apparently watching the handcuffed man on the floor infront of the police vehicle, before the driver moved, crushing and dragging him on the ground for over 100meters, while ignoring shouts from the crowd.
The incident generated uproar from the crowd, but the angry crowd was quickly dispersed by gunshots from the policemen, FCG learned
According report by LEADERSHIP, the Spokesman of the Edo State Police Command, SP Chidi Nwabuzor, responding in a press statement, said the policemen have been arrested and that Edo State Commissioner of Police, Mohammed Dankwara has called for calm.
The Statement reads in part: "Edo State Police Command wishes to inform the general public that it's aware of the trending video on social media that shows some Police officers with a Sienna Vehicle used for Police patrol that ran over a young man who was handcuffed.
"The facts of the incident as gathered preliminarily indicates that on 29/06/2023 at about 1700hrs, ASP Magdalene Osayande reported at Ekpoma Divisional Police Headquarters, Ekpoma, Edo State that while on routine stop and search duty with her team of six (6) policemen along Ihumudumu Road, Ekpoma, Edo State, intercepted a driver of unregistered Lexus car and demanded for the vehicle particulars."
The statement also said that, "along the line, he became aggressive and refused to oblige the request of the Police operatives, but rather attacked them, inflicted injuries on them, and destroyed Police vehicle.
"However, he was arrested, handcuffed, and identified as one Success Ehimare before the incident that is currently trending on social media occurred. He was later taken to Irrua Specialist Hospital for treatment, and he is in good health condition.
In light of the above, CP Mohammed Adamu Dankwara has condemned the action of the policeman seen in the trending video, and he described it as barbaric, inhumane and unprofessional.
He, therefore gave a marching order to the Divisional Police Officer (DPO), Ekpoma to identify, arrest, and bring to the State Police Headquarters Benin for brief and debrief. The officers had so been arrested, and they are with the State Criminal Investigation Department.