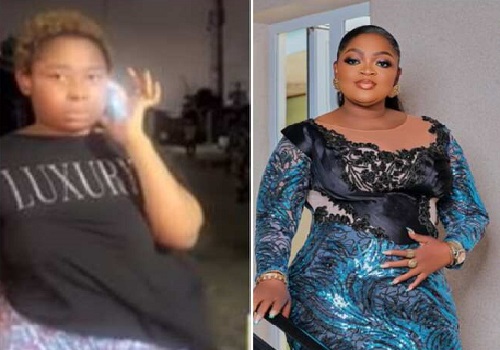 Okoye Blessing Nwakaego Jailed 3 Years For Cyberstalking Eniola Badmus
FCGs reports that the Federal High Court sitting in Lagos Wednesday sentenced a lady, Okoye Blessing Nwakaego, to three years imprisonment for cyberstalking Nollywood actress Eniola Badmus via a social media app, TikTok.
Justice Nicholas Oweibo convicted Nwakaego following her plea of guilty to a two-count charge of cyberstalking.
The judge, however, considered the convict's remorse and gave her an option of paying a fine of N150,000 in lieu of jail time.
FCGs gathered according to the charge that Nwakaego and one Chimabia (now at large) between December 2022 and July 2023 in Lagos conspired to commit the offence.
Nigerians buy cheapest fuel in the world, says Eniola Badmus
The duo was also said to have knowingly caused the transmission of communication via Tiktok, Gossipmill TV, remedy blog and other social media network, with her mobile number.
Her conduct, according to the police, was "grossly offensive, false and for the purpose of causing annoyance, inconvenience, danger, insult, injury, criminal intimidation, enmity, hatred and needless anxiety to the prejudice of Badmus."
The court heard that the offence contravened sections 24(1)(b)(2)(a)(c) and 27 of the Cybercrimes Act, 2015.
Prosecution counsel Nosa Uhumwangho, who reviewed the facts of the case, told Justice Oweibo that Nwakaego confessed to making the video following a prompt by a male friend.
He said: "Blessing said a friend who claimed to know Eniola Badmus narrated the false story to her and that she in turn, narrated the story to a male friend Chimabia, who asked her to do a video of the false story that Eniola Badmus specialises in introducing young Nigerian girls to men.
"Blessing said after making the video, Chimabia gave her N200,000 and asked her to post it on her Tiktok from where other platforms picked it."
Nosa said over three million viewers viewed the maligning video online.