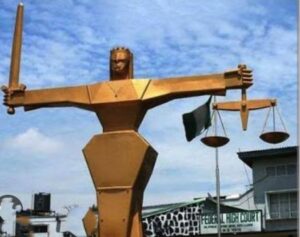 National Judicial Council has berated the Osun State Governor, Ademola Adeleke, and the state House of Assembly for removing the Chief Judge of the state, Justice Oyebola Ojo, saying they lack the power to suspend or discipline any judge.
A member of the council, who spoke on condition of anonymity because he was not authorised to speak on the matter, said the NJC was the only body that could investigate and recommend sanctions for judges.
The council member said, "A state government cannot discipline, sanction or sack the chief judge of a state without recourse to the NJC. This applies to judges. If they claim they've carried the NJC along, they should have waited for the NJC to investigate her.
"The NJC is the only body empowered by the constitution to investigate judges and recommend appropriate sanctions to the President if it is a federal court, and the governor if it is a state. State governors and Houses of Assembly members can't remove the state Chief Judge. The NJC is the only body that can suspend judges.
"The same situation happened in Sokoto, where the House of Assembly sacked the CJ, Aisha Dahiru, and the Supreme Court nullified it. "
The spokesperson of the NJC, Adesoji Oye, could not be reached for comments as calls to his line indicated it was switched off.
NBA slams Osun
Meanwhile, the Nigerian Bar Association has condemned the suspension of the Osun CJ by the state government.
The House of Assembly had during plenary on Thursday ordered Justice Ojo to step aside pending the outcome of investigation into her activities.
Approving the resolution of the assembly, the governor appointed Justice Olayinka Afolabi as the acting Chief Judge.
Ojo's suspension was, however, in defiance of an order of the National Industrial Court sitting in Ibadan, which restrained Adeleke from removing her.
Condemning the action of the government, the NBA in a statement by its National Publicity Secretary, Akorede Lawal, said her removal was unlawful.
He described the action of the governor and state lawmakers as an unwarranted assault on the judiciary and aimed at intimidating that arm of government in the state.
The statement read in part, "The NBA unequivocally condemns this unlawful action by the Osun State Government. The action of the state government is an abuse of the rule of law and a desecration of the Constitution of the Federal Republic of Nigeria, 1999 (as amended).