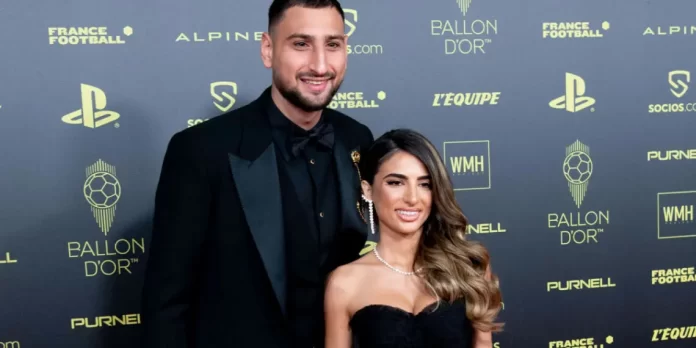 PSG goalkeeper Gianluigi Donnarumma And Partner Attacked, Robbed In Paris
FCG reports that Italy and Paris St-Germain goalkeeper, Gianluigi Donnarumma and his partner experienced a frightening incident at their home where they were robbed by a gang.
FCG gathered according to French media,that they were tied up at their flat in the city's central eighth district. Fortunately, they managed to escape to a nearby hotel, and the hotel staff raised the alarm, leading to their transfer to a hospital.
The Paris prosecutor's office spokesperson confirmed that an investigation has been initiated concerning the armed robbery by an organized gang and aggravated violence that occurred at Mr. Donnarumma's residence. There are reports that the attackers took away valuable items such as jewelry, watches, and luxury leather goods, which could be worth up to €500,000 (£430,000).
Gianluigi Donnarumma sustained minor injuries in the incident, while his partner, model Alessia Elefante, was unharmed, according to Agence France Presse.
Their agent issued a statement saying that both Gianluigi Donnarumma and his partner are in shock but are coping with the unfortunate circumstances and cooperating with the police.
An investigation by France's special BRB police unit, dedicated to handling armed robbery and burglaries, has already commenced. Gianluigi Donnarumma, who moved to Paris two years ago, was expected to join the Paris St-Germain squad for their pre-season friendly match against Le Havre and a tour of Japan and South Korea.
It's disheartening to note that this is not the first time a Paris St-Germain footballer has been targeted by gangs. Previous attacks mostly occurred when the players were not at home. For instance, last January, two men were sentenced for a robbery at the home of Brazil footballer Marquinhos in Yvelines, located to the west of Paris. Marquinhos was away playing during that incident, but his father was present along with his two teenage daughters, who were unharmed.
On the same day, Marquinhos's teammate, Angel Di Maria, also experienced a burglary at his home. Several other players, such as Thiago Silva, Dani Alves, and Eric Choupo-Moting, have been targeted in the past while playing for PSG.
High-profile footballers in the UK and the Netherlands have also faced similar incidents, underlining the need for enhanced security measures for public figures and their families.
Thequesttimes.com