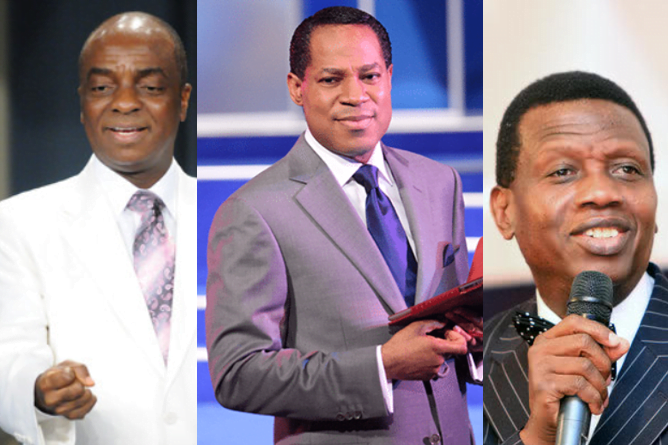 Richest Churches VS Richest Pastors In The World
According to statistical analysis by BBC Africa, on 'Richest Churches VS Richest Pastors In The World' research, the following are the findings
RICHEST CHURCHES IN THE WORLD:
1. Church of Jesus Christ of Latter-Day Saints- $67.0 billon
2. Catholic Church – $30 billion +
3. Catholic Church Australia- $20.9 billion
4. Catholic Church Germany- $25.0 billion
5. Church of England $7.8 billion
6. Opus Dei (part of the Catholic Church) Italy- $2.8 billon
7. Church of Scientology- $2.0 billon.
It is necessary to note that churches like;
RCCG,
Winners Chapel,
Christ Embassy,
Synagogue,
and other Pentecostal churches were not in the mentioned list.
RICHEST PASTORS IN THE WORLD:
1 Bishop Oyedepo – $150 Million
2 Bishop TD Jakes – $147 Million
3 Pastor Chris Oyakhilome – $50 Million
4 Pastor Benny Hinn – $42 Million
5 Pastor Adeboye – $39 Million
6 Pastor Creflo Dollar – $27 Million (He used to be #1)
7 Pastor Kenneth Copeland – $25 Million
8 Evangelist Billy Graham – $25 Million
9 Prophet TB Joshua – $10 Million
10 Pastor Joseph Prince – $5 Million
In contradiction, observation again has it that none of the 4 richest churches mentioned have their leaders on this list of the Richest Pastors.
Leaders like;
The Pope,
The Arch Bishop of Canterbury,
The Bishop of Opus Dei,
The Director of the Church of Jesus Christ of Latter-Day Saints are not mentioned there.
Paradoxically, 6 out of the 10 Richest Pastors are blacks with their congregation being predominantly black,
4 out of the 10 richest Pastors have their churches in Nigeria, the alleged poverty capital of the world, the 147th most corrupt nation of the world, the home to the second deadliest terrorist group, and the most unsafe place to give birth to in the world.
From the opposite direction, it is observed as well that the Richest Churches mentioned are situated in;
1- USA
2- Vatican City
3- England
These are amongst the safest, less corrupt and most prosperous Nations of the world
What a Paradox!! Jesus Christ fed the multitude, but in Nigeria the multitude feed the Men of God and General Overseers.