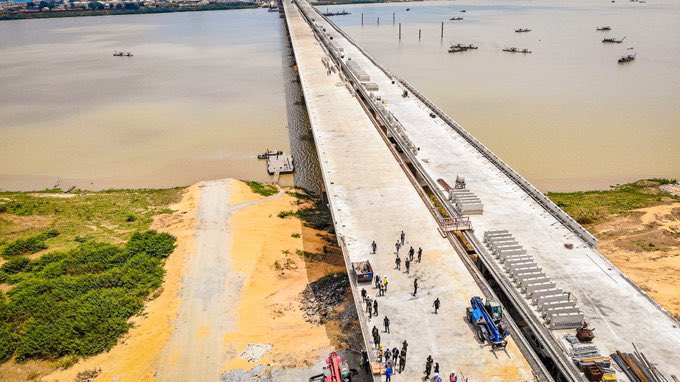 Second Niger Bridge may be blocked – FG
FCGs reports that the Federal Government has said that the Second Niger Bridge may be blocked if the vandalization of the metal components on the bridge does not stop.
Permanent Secretary of the Federal Ministry of Works and Housing, Mr. Mahmuda Mamman said this after visiting the bridge to access the level of vandalization, FCGs learnt
Mamman urged security agencies to intensify surveillance on the bridge to curtail the activities of the miscreants who he said were after the mental components.
He said;
"We are here to see the level of vandalization of the Second Niger Bridge. It was an unfortunate situation that all of us woke up to the trending news of vandalization of some metal components on the bridge.
"This is a massive investment put up by the Federal Government in order to ease movement of goods and services to Nigeria. To me, free movement is a basic human right and all of us must take collective responsibility to safeguard it.
"We have interfaced with the contractor handling the project, Julius Berger and it is really unfortunate. The Federal Government has actually done what it is supposed to do.
"We have written to security agencies concerned asking them to intensify surveillance activities along the road so that such things will not happen.
"At the same time, host communities have a responsibility to play because safeguarding national asserts is not a responsibility of one man; it is a collective responsibility.
"What the miscreants are actually after, are the metal components on the bridge; anything metal, the miscreants are after it and it will be vandalized and at the end of the day, if care is not taken, the entire bridge will become unmotorable.
"That is why it is good for us as stakeholders to make sure we safeguard this infrastructure in the interest of public good and the nation.
"On the delay in the completion of the project, he said: "We have interfaced with the contractor and he said the major challenge why the project is not completed is because of security concerns.
"With the recent development, we are hoping that all things being equal, that is the commitment he gave us, in the next three weeks, everything about the Second Niger Bridge will be completed.
"The bridge is still under maintenance by the construction company that built it and before the handing over, l am sure that most of the things that were vandalized are going to be replaced."