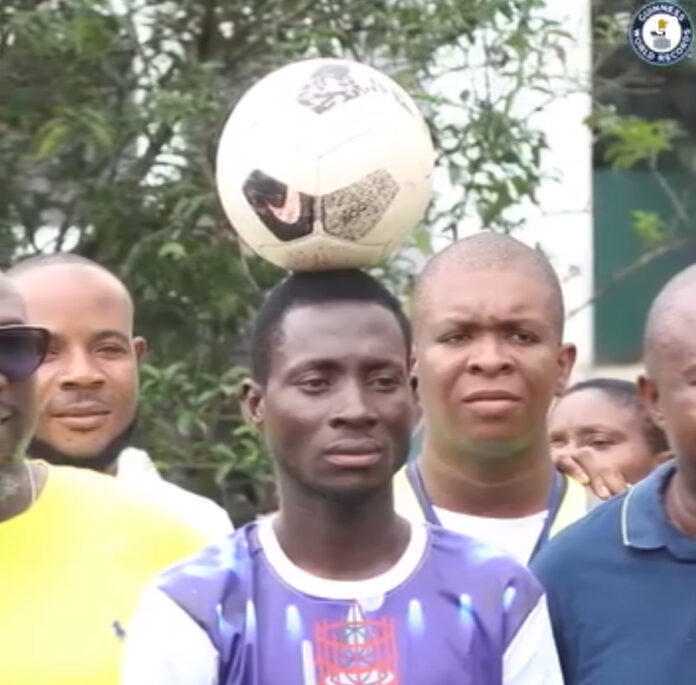 Nigerian man makes new Guinness world record for the Most steps climbed on a ladder while balancing a ball on the head (Video)
A Nigerian man identified Tonye Solomon, has made a new Guinness world record for the Most steps climbed on a ladder while balancing a football on the head
After Tonye walked 60 km (37 mi) with the ball on his head from Amassoma to Yenagoa in Bayelsa State, many people doubted the authenticity of his story.
To prove them wrong, Tonye decided to demonstrate his skills by setting a Guinness World Records title for the most steps climbed on a ladder while balancing a ball on the head. He successfully achieved the dizzying feat last month by climbing 150 steps to the top of a 250-foot (76-metre) tall radio mast while expertly keeping control of the ball atop his head.
He spent two months training for it, using all his free time to practise until he was confident that he would not fail.
During the record attempt, Tonye was seemingly unfazed by the steep ascent, taking just 12 and a half minutes to complete the climb.
"It wasn't easy," he said. "I thank the Nigerian Civil Defense Bayelsa State Command for allowing me use their facility for this."
The Guinness World Record ratified his new record today September 13.
See video in the link below
Guinness World Records