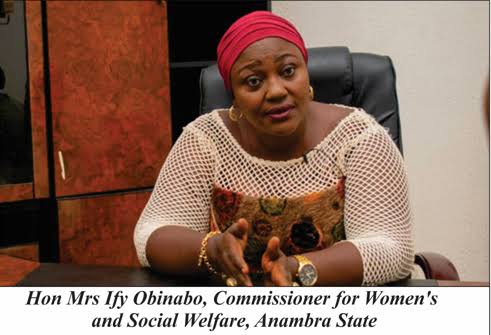 Anambra Police arrest boys who gang r@ped teenager and uploaded it online
FCG reports that the Anambra State Government has rescued a 19-year old girl who was allegedly g*ng-r@ped by six boys in Anam, Anambra West Local Government Area of the state.
Mrs Ify Obinabo, the state's Commissioner for Women and Social Welfare, told newsmen on Saturday that the suspects had been arrested.
FCG gathered that the suspects apprehended include Afam Ezenwa, 17, Chijioke Ifeanyi, 20, Collins Obadom, 18, Abuchi Okechukwu, 16, Chima Obiekezie and Sunday Okafor, 27.
Obinabo said that the case had been transferred to the state criminal investigative department of the Police for further investigation.
She said: "When we saw the viral video of the 19-year old girl who was allegedly gang r@ped by six boys in Anam, we decided to intervene and follow up the case.
"The victim was rescued and in collaboration with the police, the suspects were equally arrested. The ministry will ensure that they face the full wrath of the law."
The commissioner lamented the high rate of crimes among delinquents and called on parents and guardians to prioritize the upbringing of their children and wards.
She assured the victim and her family that the administration of Gov. Chukwuma Soludo would ensure justice was served, to deter criminals.
Narrating her ordeal, the survivor explained that she visited her maternal home in Oramaetiti in Anam and got ambushed by a group of boys who took her to a room and took turns in r*ping her.
"Despite my plea, they did not stop but continued having their $3*ual satisfaction while one of them was filming the act.
"On my way home, I was accosted by another set of boys who h@rassed me and forced me to pull my *nder we@rs and give to them, which I obeyed because they threatened to kill me.
"It was good Samaritan that later took me home to her parents after I narrated what happened to me," she said.
The mother of the r@pe survivor, who pleaded anonymity, said her daughter would be the third victim of the alleged r@pe suspects in the area.
"Those boys are known for r@ping girls and collecting their p@nts which usually results in the death of their victims after a period of time.
"We are appealing to the state government not to take the matter lightly because my daughter's life is in danger, especially now that they are yet to retrieve her under wears," she said.