Confusion As Sacked Postmaster General Resumes For Duty by naptu2: 5:02pm
Nigerian Postal Service @NipostNgn tweeted
PRESS RELEASE:
President Bola Ahmed Tinubu (GCFR) has reinstated Rt. Honorable Adeyemi Sunday Adepoju as the Postmaster General of the Federation & CEO of the Nigerian Postal Service (NIPOST) due to his exceptional leadership and performance.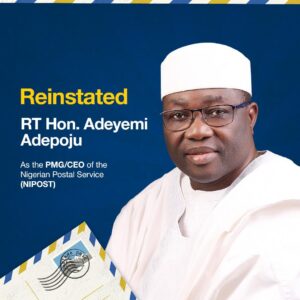 In Reactions
Sacked Postmaster General/CEO of Nigerian Postal Service (NIPOST), Adeyemi Sunday Adepoju, celebrates his purported reinstatement as CEO of NIPOST by President Tinubu
On Wednesday, Tinubu sacked Adeyemi and appointed Tola Odeyemi as the Postmaster General/CEO of NIPOST
https://x.com/kc_journalist/status/1713176655181627762?s=20
Chief Ajuri announced the President's approval of 'Tola Odeyemi as the new Postmaster General two days ago.
However, today, the NIPOST Twitter account is stating that the former PMG has been reinstated.
Where is the President's approval of the reinstatement? Why is the reinstatement coming from the NIPOST twitter account?
Dear. @bosuntijani, speak now!
https://x.com/mrlurvy/status/1713172357517373451?s=20