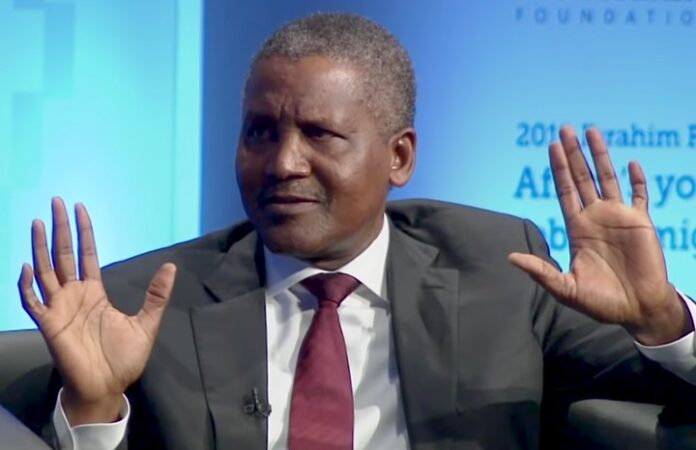 Dangote Maintains Africa's Richest Man, Becomes $20m Richer
FCG reports that Aliko Dangote, the president of Dangote Group, has added $20.7 million to his wealth as at June 30, 2023, through investments in the industrial sector — cementing his spot as Africa's richest man.
According to a report by TheCable, Dangote lost $3.12 billion following Nigeria's decision to float the local currency and unify its exchange rate system.
According to the latest Bloomberg Billionaires Index, the business mogul remains the richest man in Africa, despite the volatility of the Nigerian naira against the dollar.
In the billionaire listing released on Friday, Dangote, with a wealth of $15.6 billion, topped other Africans on the index.
This means Dangote's wealth increased by 4 percent compared to his net worth valued at almost $15 billion in 2020, when he moved from 103rd position on the billionaire index to 63.
Hailing from Nigeria's northern region, the serial investor has been the richest man in Africa for the 12th year running.
According to the index, Dangote is currently the 111th person and the only Nigerian on the list of the top 500 billionaires.
FCG gathered that in May 2023, the billionaire inaugurated the Dangote petroleum refinery, an illustrious project expected to catalyse the transformation of Nigeria's energy sector.
The inauguration came a decade after he announced plans for the refinery in September 2013, when he secured about $3.3 billion in financing for the project.
He also controls sub-Saharan Africa's biggest cement producer, Dangote Cement, with interests in sugar, salt, fertiliser, and packaged foods.
Alongside Dangote, other Africans listed in the latest top 500 world billionaires index for the year 2023 include; Johann Rupert and family (South Africa, $13.3 billion), Nicky Oppenheimer (South Africa, $9.0 billion), Nassef Sawiris (Egypt, $7.47 billion), Natie Kirsh (South Africa, $7.37billion) and Naguib Sawiris (Egypt, $5.93 billion).