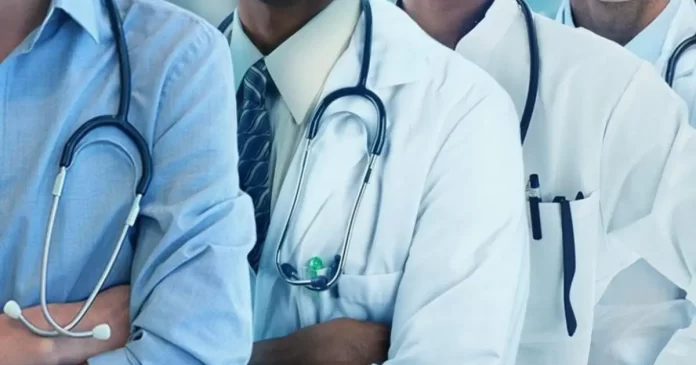 Doctors Appeals To FG To Reconsider "no Work, No Pay" Stance
FCGs reports that the Nigeria Medical Association (NMA) Federal Capital Territory (FCT) chapter, alongside the Nasarawa and Kogi states chapters, has appealed to the Federal Government to reconsider its stance on implementing a "No Work No Pay" policy for medical workers, asserting that this course of action could have detrimental effects on the healthcare sector according to NAN reports.
FCGs learnt that this plea was voiced during a joint press conference held in Abuja to inaugurate the 2023 Annual General Meeting (AGM) and Scientific Conference of the NMA-FCT.
Dr. Charles Ugwuanyi, the NMA-FCT Chairman, vehemently criticized the Federal Government's proposed approach, which was a response to the ongoing strike initiated by the National Association of Resident Doctors (NARD).
Ugwuanyi expressed concerns that proceeding with this plan might exacerbate the existing healthcare crisis by intensifying the shortage of doctors, potentially driving more professionals to seek opportunities abroad.
Ugwuanyi underscored that NARD's demands were primarily aimed at safeguarding the rights of medical practitioners and fostering an environment where dedicated doctors would choose to remain in service for the nation.
Poor working conditions for doctors
He emphasized the current scarcity of practising doctors in Nigeria, with fewer than 25,000 registered physicians, and implored the government to devise strategies to incentivize doctors to stay within the country's healthcare system.
The NMA-FCT Chairman also called upon governmental bodies at all levels to prioritize the safety and well-being of healthcare workers.
The association expressed condolences to the Lagos State Government following the tragic demise of Dr. Vwaere Diaso, a young female doctor who lost her life resulting from a mechanical failure in a lift.
In his words,
"We are all in mourning, while we pray for the repose of her soul and the souls of all the faithful departed, we want to send a message out there.
"We at the NMA are indeed not happy with the poor working conditions, which on this occasion has resulted in the death of this young star with a very bright future.
"We are calling on the relevant authorities, government at different levels managing the different hospitals, to take safety in the working environment seriously.
"We enjoin all our members across the country, to take this message to the different levels of government,"
Condemnation of the FG's plan
Dr. Peter Attah, Chairman of the Committee of State Chairmen of NMA and head of the Nasarawa State chapter, strongly disapproved of the "No Work No Pay" proposition. Attah argued that this approach would undermine healthcare service delivery rather than improve it.
He stressed the need for open dialogue between the government and the medical association to arrive at mutually beneficial solutions for the health sector.