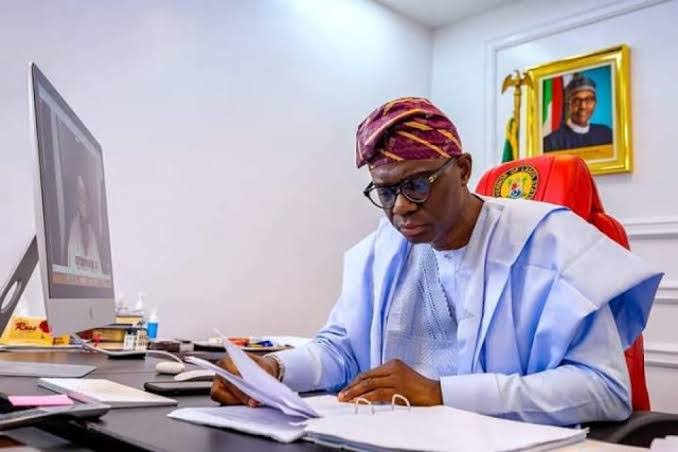 Document depict how Lagos Governor paid N200milion From State Treasury To Lawyers To Defend him At Election Tribunal
According to a document published on the website of the Lagos State Public Procurement Agency tagged "Letter Of Award Registered For January 2023" the sum of N50million each was awarded to four law firms designated as contractors
The Lagos State Government is presently receiving backlashes after it paid a total sum of N200,000,000 to legal firms that represented and defended Governor Babajide Sanwo-Olu at the governorship election petition tribunal.
According to a document published on the website of the Lagos State Public Procurement Agency tagged "Letter Of Award Registered For January 2023" the sum of N50million each was awarded to four law firms designated as contractors.
They are Ahmed Raji & Co, Akinboro & Co, Babatunde Ogala & Co, and Messrs Femi Okunnu & Co.
The award, under the Lagos State Ministry of Justice, was described as "Instruction to Represent and Defend Mr. Sanwo-Olu Babajide Olusola in Suit No: FHC/CS/1979/2022 – PDP vs INEC & 42 ors."
Reacting to the payment, a Lagos-based constitutional lawyer, Festus Ogun via his X platform (formerly Twitter) said such expenditure was totally unacceptable.
He said, "Sanwo-Olu paid lawyers that defended him at the Election Petition Tribunal with taxpayers' money from the treasury of Lagos State. All my life, I have never seen this kind of callous and mindless abuse. Totally unacceptable."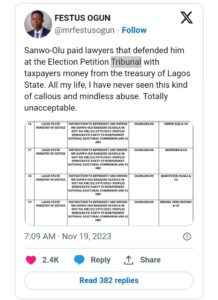 Meanwhile, Reporters had also reported a document uploaded on X platform by the ADC Lagos State Gubernatorial Candidate, Funsho Doherty showing how the Lagos Government via Ministry of Home Affairs awarded the contract for the renovation of the church to VicJone Nigeria Limited for the sum of N531,553,559.
"I just wrote an open letter to the governor on Public Procurement awards reported by LASG for the 2nd and 3rd quarters of 2023, highlighting a number of issues for further scrutiny and remedial action.
"Judicious use of public funds is always important and is especially so now," he wrote on X platform, formerly Twitter.
The government also approved N7.5 million to replace liquid fragrance in the government's office and N3 billion to purchase rechargeable fans for the office of his deputy, Obafemi Hamzat.
Other contracts awarded by the state's Public Procurement Agency (PPA) in the 2nd and 3rd quarters of 2023 include approval of over N440 million for the purchase of a new Lexus LX 600 Bulletproof Sport Utility Vehicle for use in the pool of Office of Chief of Staff.