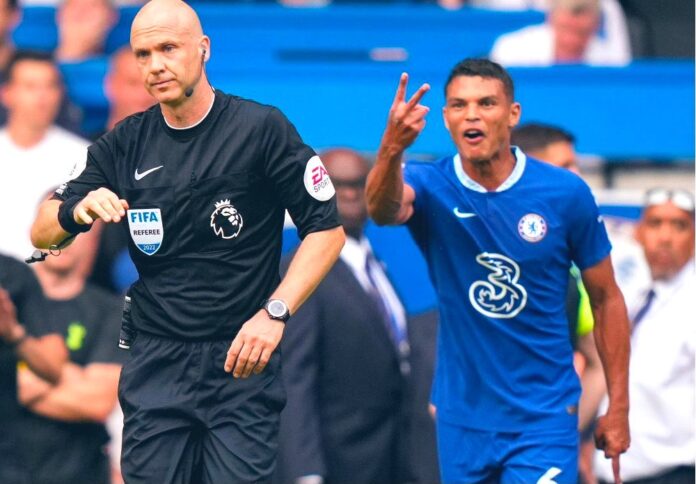 EPL Referee Anthony Taylor Is demoted To The Championship
Anthony Taylor has been demoted to the Championship after awarding Newcastle with a controversial penalty against Wolves on Saturday.
The Premier League referee will oversee the second-tier clash between Preston and Coventry a week after the divisive call, in his first Championship tie since 2019
Taylor came under fire from a range of different voices after handing the visitors the penalty at Molineux, which allowed the Magpies to go ahead in the first-half
The whistler pointed to the spot after Hwang Hee-chan brought down Fabian Schar whilst attempting to clear the ball, and had his decision rubber-stamped by VAR.
The official on duty at Stockley Park Jarred Gillett took his time but ultimately opted not to send Taylor to his monitor to look at the incident a second time
Wolves were unable to snatch the 2-2 victory at home, but came from behind twice to ensure the spoils were shared on a trying afternoon for manager Gary O'Neil.
O'Neil – who has previously been outspoken on refereeing issues after Wolves were on the receiving end of two more controversial decisions against Manchester United and Luton Town this season – called Taylor's call 'scandalous'.
'(Newcastle's) second goal was never ever a penalty, ever.' He told Sky Sports.
'It was a terrible decision on-field and from VAR (but) we managed to bounce back.'
Hwang – who went on to score the equaliser – said that he was 'saddened' by the decision.
'I'd tried to clear the ball and saw someone block me. I stopped and he touched me – I don't think it was a penalty,' he said.
'I felt so sad and really wanted to do something for my team. Everybody said 'You can do it." They gave me trust and I scored.'
Off the pitch, Wolves fans crowed 'Premier League – corrupt as f*** ' in response to the penalty given.
Taylor is not the first Premier League official this season to be sent down to the Championship in response to hapless refereeing.
Adrian Holmes was sent to run the line during Millwall's home match against Hull in October – after incorrectly deeming Luis Diaz's goal offside during the much-discussed VAR brouhaha when Liverpool met Tottenham in north London.