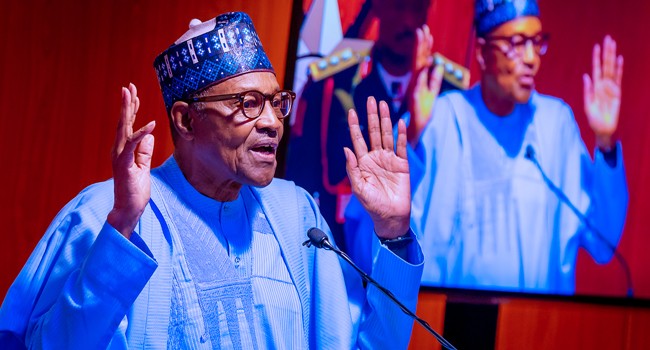 Garba Shehu explains why Buhari put petrol subsidy
FCG reports that the former presidential spokesperson said Buhari removed subsidy on electricity, fertilizer. Hajj/Christian Pilgrim, diesel, aviation fuel, kerosene, amongst others.
FCG learnt that Garba Shehu, a former spokesperson for ex-President Muhammadu Buhari has explained that the former Nigerian leader put petrol subsidy removal and the unification of the country's foreign exchange rates on hold "for a better time".
Shehu made this known in a statement on Monday exactly four weeks after President Bola Tinubu took over from Buhari on May 29, 2023 and announced petrol subsidy removal, with a litre of the vital commodity jumping from N184 to over N500, amid attendant economic pain.
"Removing subsidies for the Naira and PMS (Premium Motor Spirit) was cued and put on hold. Look for example in the Petroleum Industry Act. The important decision was kept for a better time," Shehu said.
"It could not have come at a time when tensions were high in the country and no responsible leader would have added fuel to the fire."
The former presidential spokesman said only a new administration with a "goodwill that fills a warehouse can attempt" such in view of the volatile security situation of the country when Buhari held sway as Nigeria's president between May 2015 and May 2023.
'APC Had To Win 2023 Poll'
Shehu also noted that being "politically honest", the Buhari administration, in its last days, could not have gone ahead with the earth-shaking reforms "because the APC (All Progressives Congress) had an election to win".
He said the ruling party would have been thrown out of office if the decision on subsidy removal on Premium Motor Spirit (PMS) known as petrol was made.
"With the election now behind us, a capable leader as we now have in place is best positioned to move forward. We have nothing but confidence that the new administration will carry the nation and all its constituents into a stable future in the aftermath of these major economic and financial decisions," Shehu added.
He lauded the timing of the decisions to remove petrol subsidy and unify foreign exchange rates by the Tinubu administration, saying the President and his deputy, Vice President Kashim Shettima has done "overwhelmingly well" and have been "most dexterous in managing the aftermath of the decisions by successfully avoiding any crisis".
'Buhari Removed Other Subsidies'
The former presidential spokesman further stated that though his ex-boss did not remove petrol subsidy, he removed electricity subsidy, fertilizer subsidy. Hajj/Christian Pilgrim subsidies, diesel subsidy, aviation fuel subsidy, kerosene subsidy, amongst others.
"For those with short memories, many of those subsides were all in place when President Buhari was elected to office in 2015: all those in place were gone by May 2023 – including the annual fertilizer subsidy that weighed 60-100 billion Naira (that's trillion naira in about 10 years – yes you read that right) heavy on the federal budget each year.
"So no, Buhari didn't remove the petrol subsidy – but in vitally important stages, he removed every other budget-busting, egregious, economic-growth-crushing subsidy along the way," Shehu stated.