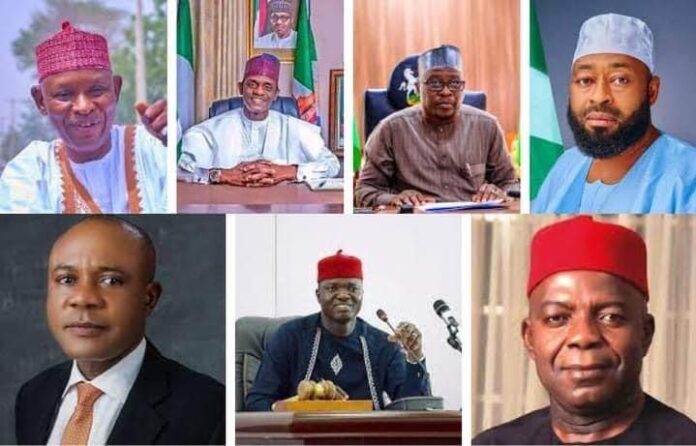 Gov jumbo' Appointments Cost Millions In Salaries Monthly
According to the remuneration approved by the Revenue Mobilisation, Allocation and Fiscal Commission (RMAFC), if a review has not been made, each special adviser earns N380,241.76 monthly and N4.6 million annually. Also, the assistants or advisers are entitled to other allowances like accommodations, furniture estacodes, medical, severance gratuity, leave and motor vehicle loans, which are paid based on application.
The ICIR used the amount provided by the commission as an estimate to determine how much it would cost the state governors monthly to offset the payment of their aides' salaries.
For instance, in Adamawa, The ICIR reported how the Governor, Ahmadu Finitiri, appointed 47 media aides. These appointments, by calculations, would cost the government N17.9 million to offset the aides' monthly salaries.
Similarly, Governor Alex Otti appointed 52 Special Advisers and Assistants to his cabinet in Abia. This would cost the state N19.77 million monthly to pay the aides' basic salaries.
In Kano state, a report captured that the Governor, Abba Kabir Yusuf, appointed 197 Special Advisers, Senior Special Assistants and Special Reporters. By calculation, the Governor would be paying N74.9 million monthly, while in Yobe State, where the governor, Mai Mala Buni, appointed 642 aides, nothing less than N244.11 million would be spent on their salaries monthly.
In Niger State, Governor Umar Bago appointed 131 women into his cabinet to fulfil his campaign promise of women's inclusion in his administration. Out of this, 90 women were appointed as SSAs. This amounts to N34.22 million monthly in salary payments.
Similarly, in Ebonyi state, a report showed that Governor Francis Nwifuru appointed 41 Special Assistants and Senior Special Assistants, translating to N15.59 paid monthly as salaries to the officials by the governor.
Meanwhile, in Enugu state, Governor Peter Mbah had earlier appointed 24 special advisers and senior assistants but got the approval of the state House of Assembly to appoint 50 more aides. By calculation, the state would be spending N28.14 million monthly salaries for the 74 aides.
Aside from the appointment of SAs and SSAs, some of the state Governors, like Ebonyi and Niger, also appointed as high as 35 and 30 commissioners in their respective states. According to RMAFC, a Commissioner is expected to earn N406,739.25 monthly. This means Ebonyi and Niger states would pay N14.24 million and N12.02 million on monthly remuneration for their commissioners. The ICIR captured the appointment of commissioners by state governors in this report.