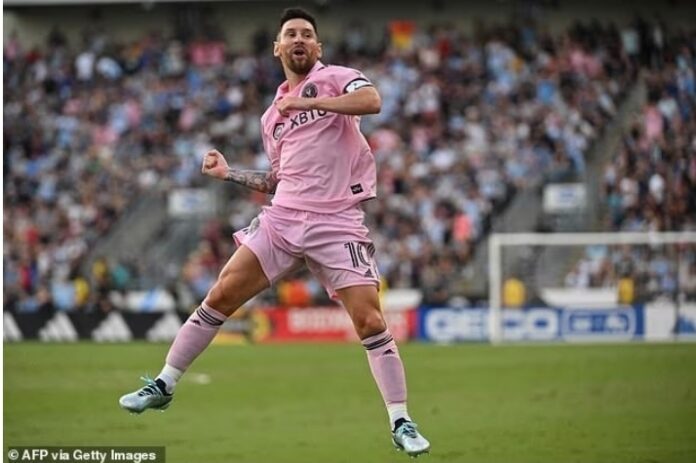 Lionel Messi Leads Inter Miami Into Their First EVER Final
Lionel Messi scored a stunning strike from 35 yards to lead Inter Miami into the Leagues Cup final with a 4-1 victory over Philadelphia Union, FCGs reports
FCGs learnt that Miami made a whirlwind start with Messi's strike partner Josef Martinez scoring in just the third minute, latching onto a long ball and rifling home into the far corner.
It was a dream start for Miami in one the toughest games, on paper, the team has faces since Messi arrived a month ago against last season's MLS runner-up.
This time, there was no David Beckham, a Miami co-owner, watching on in the stands in Philadelphia, nor was his wife Antonela in attendance for the road game. The Messis and the Beckhams were recently inadvertently caught up in an incident outside a Miami nightclub – a diner claimed security beat him because they thought he was trying to photograph the Miami star.
Messi and the Miami team were booed as they made their way out onto the field for Tuesday night's game. But it made no difference – the World Cup winner showed exactly why there is so much excitement around his presence here just 20 minutes into the game.
Messi's strike from long distance sent Miami into the final of the Leagues Cup this weekend
Picking up a ball that was flicked into his path by Martinez, Messi strolled forward and, recognizing he was about to be closed down, made the most of the space around him by unleashing a sumptuous left-footed strike from 35 yards.
The ball stayed low and swerved out of the reach of Union goalkeeper Andre Blake, nestling into the corner and leaving what had been a rowdy crowd at Subaru Park stunned into silence.
There was more to come before the halftime interval – Jordi Alba rounded off a fabulous sweeping move for his first goal in Miami colors, running through one-on-one and beating Blake with the composure of a striker like Messi or Martinez.
Union coach Jim Curtin clearly told his team not to respect the likes of Messi, Alba and Sergio Busquets at the halftime break. He also made two changes, bringing on Jack McGlynn and Mikael Uhre for Leon Flach and Damion Lowe.
Union attacked Miami and had some success. Drake Callendar made an outstanding save to deny Chris Donovan's header and Union then got one back in the 73rd minute through substitute Alejandro Bedoya.
It felt, at that time, that the momentum was with Union and with 15 minutes plus stoppage time left, a second goal could have made it nervy for Miami.
But instead, David Ruiz made the game safe for Miami with a smart low finish in the 84th minute to snuff out any fears of a Union comeback.
'We worked our way to the finals and we made it,' Messi said on Instagram after the game. 'We're still on the last step.'
Miami coach Tata Martino heaped praise on his star trio of Messi, Busquets and Alba after another commanding win.
'They (Messi, Busquets, & Alba) pass on this confidence to the younger players and (Messi) has this commitment to the game,' Martino said. 'He's working a lot, especially on recovery balls and this is infectious to his teammates.'
There are lessons to learn for Miami ahead of the final – a more ruthless team might have made the second half harder for them but when you've got Messi in your team, it only takes a second for the game to be taken away in Miami's favor.
Victory also takes Miami into next season's CONCACAF Cup, regardless of whether they win the final but now attention is locked firmly on the bid for silverware this weekend.
'Our team next year will play in an international tournament, which was our goal,' Martino added.
'That has us highly motivated and confident, but we are not allowing that to distract us from what we need as a team to get better. We don't confuse our success so far with realizing we still have a long way to go.'
Beckham also posted about his pride on social media, writing on Instagram: 'Another amazing night in pink. What a moment for OUR team, OUR fans, OUR club. First final in our history, SO PROUD'.
Dailymail