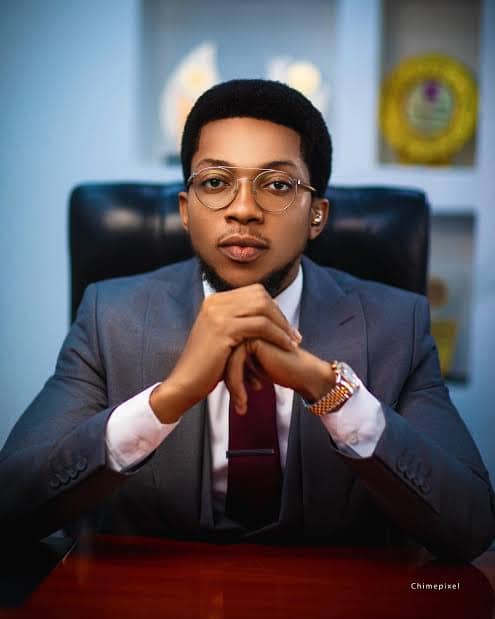 Meet 30-Year-Old Nigerian Who Has Employed Over 3000 In His Company
FCGs reports Architect Chukwudi Ezenwa, popularly known as Chuky GSS, who is a visionary entrepreneur and who has captured the attention and admiration of many with his remarkable achievements.
FCGs gathered that at just 30 years old, he leads a company with over 3000 employees, establishing himself as a prominent figure in Nigeria's business landscape. As the Chairman and CEO of GSS Group, a conglomerate with a vast interest in real estate investment, private security, construction, and entertainment, Ezenwa has demonstrated unparalleled leadership qualities and entrepreneurial prowess.
Ezenwa's journey began with humble roots. Born and raised in Port Harcourt, Rivers State, he developed a passion for architecture at a young age. Encouraged by his family's constant support, he pursued his goals and has bagged both Bachelors and Masters degree in Architecture from Nnamdi Azikiwe University.
Ezenwa started his entrepreneurial path armed with expertise, passion, and an unwavering drive to become successful and impact others.
Ezenwa launched GSS Group with a thorough understanding of the Nigerian real estate business. The business quickly became well-known for its dedication to perfection, exceptional quality, and creative designs. Architect Ezenwa is a developer and co-founder of the Dubai estate Awka, which is the biggest privately developed estate in Anambra state. In addition to this, his award-winning company has been in the business of constructing both residential and commercial buildings and changing the look of Nigeria's skylines.
Ezenwa's success is not limited to the field of Architecture alone. Branching out into the private security sector, GSS Security company offers state-of-the-art security solutions to clients across industries. This diversification has proved to be a prudent business move, expanding the company's reach and solidifying its position as a a leading private security company in Nigeria and largest in the South East. Initially starting off in Port Harcourt, Rivers state, and with over 3000 young people under his payroll, Ezenwa has moved to conquering the private security business in Nigeria with headquarters in Anambra state. The company has branches across different states of the Federation which include Abuja, Lagos, Owerri, Enugu and Portharcourt.
Ezenwa's ability to build a highly competent and motivated workforce is a crucial factor in his success. He understands the value of human capital as the leader of a conglomerate with over 3000 young people and makes investments in the training of his workforce. Ezenwa supports a culture of excellence and innovation within the GSS Security by fostering a favorable work environment and providing competitive pay.
Ezenwa predicts global expansion in the future as he is determined to establish GSS Security as a global and leading digital security firm in the world with cutting edge tech services. Ezenwa continues to drive the expansion of his business and establish new standards of success by utilizing his business acumen and unmatched tenacity.
Ezenwa's uncompromising commitment to corporate social responsibility sets him apart from his contemporaries. He actively works to have a positive impact on society because he recognizes the value of giving back. The GSS Group has embarked on initiatives that seek to improve education, entrepreneurship, healthcare, and social welfare in underprivileged communities, with most young Nigerians across ethnic and religious lines benefitting massively. His dedication to improving the lives of young people in society has won him a great deal of respect and admiration. Recently, Ezenwa funded the inaugural cash prize of N500,000 for the Aguata Best Student Challenge, a competition for secondary school students organized by the Transition Chairman of the Aguata Local Government Area.
Ezenwa's achievements have not gone unnoticed, as he has received several prestigious awards and accolades. The series of awards and accolades conferred on Ezenwa across Nigeria further highlights his unique ability to navigate challenges and emerge victorious, establishing him as a role model for aspiring young entrepreneurs across the country, and globally.
Architect Chukwudi Ezenwa's story is a testament to the power of passion, perseverance, and determination. Through his remarkable achievements, he has not only transformed the Nigerian business landscape but also serves as an inspiration to individuals both young and old worldwide. As he continues to defy conventional norms and expand horizons, Ezenwa exemplifies what it means to be a visionary entrepreneur, leaving an indelible mark on the world of business.