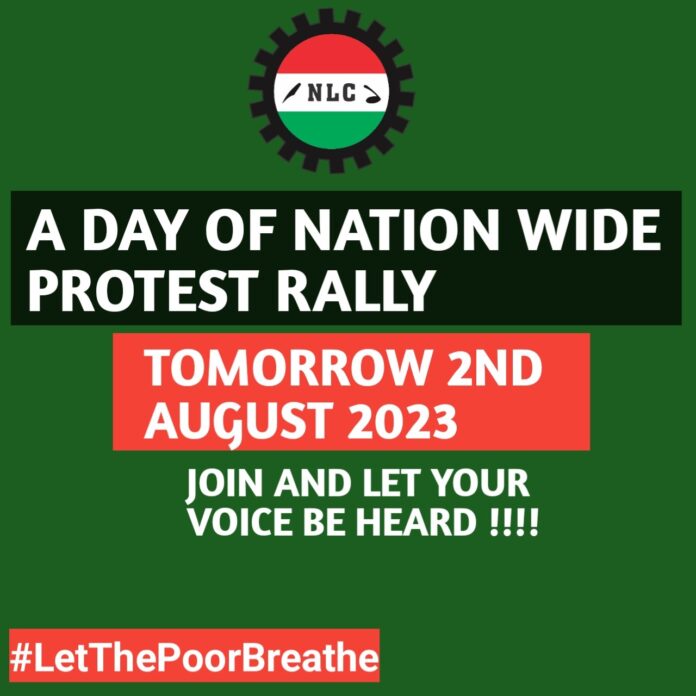 NLC Insists On Holding Protest Rally Today
FCGs reports that the Nigeria Labour Congress has insisted on carrying on the proposed protest again hike in fuel and many other pressing issues with the govt.
This was learnt from a press release by NLC on Monday
PRESS RELEASE
1st OF AUGUST, 2023
WE HAVE NEITHER RECONSIDERED NOR SUSPENDED THE NATIONWIDE MASS PROTEST
We want to inform all Nigerians that we have just risen from a meeting with the federal Government where we sought to get them listen to the demands of the people and workers of Nigeria.
The outcome of this meeting earlier today has however not changed anything or the course
which we have set for ourselves tomorrow as custodians of the interests and desires of
Nigerian workers and people.
Nigerians are advised to ignore the work of fifth columnists who are working hard against
the wishes of the people. We urge everyone to gather in our respective states and wherever
we may be across the nation to give vent to this collective resolve.
Once again, the Nationwide Mass Protest will start tomorrow.
OUR DEMANDS ARE:
⚫ IMMEDIATE IMPLEMENTATION IN GOOD FAITH OF THE RESOLUTIONS WITH CONGRESS JOINTLY SIGNED WITH GOVERNMENT AND TUC
• IMMEDIATE REVERSAL OF ALL ANTI-POOR POLICIES OF GOVERNMENT INCLUDING THE RECENT HIKE IN PMS PRICE, SCHOOL FEES AND VAT
⚫ FIX OUR LOCAL REFINERIES IN PORTHARCOURT, WARRI AND KADUNA
• RELEASE OF 8 MONTHS WITHHELD SALARIES OF UNIVERSITY LECTURERS AND WORKERS
• ACCORD APPROPRIATE RECOGNITION AND SUPPORT TO THE PRESIDENTIAL STEERING COMMITTEE AND THE WORK OF ITS SUB COMMITTEES
⚫ TO PUT A STOP TO INHUMAN ACTIONS AND POLICIES OF GOVERNMENT.
Comrade Joe Ajaero President
JOSEPH AJAERO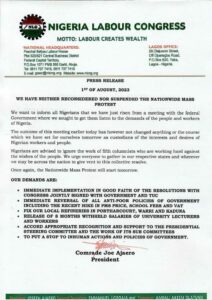 IGNORE FAKE RUMOURS, NLC IS NEVER DIVIDED , WE ARE ONE UNITED AND STRONG LABOUR CENTRE : THE PROTEST RALLY HOLDS TOMORROW ACROSS CITIES NATION WIDE
Take off Point location across States to be announced later.
IGNORE FAKE RUMOURS, NLC IS NEVER DIVIDED , WE ARE ONE UNITED AND STRONG LABOUR CENTRE : THE PROTEST RALLY HOLDS TOMORROW ACROSS CITIES NATION WIDE

— Nigeria Labour Congress HQ (@NLCHeadquarters) August 1, 2023