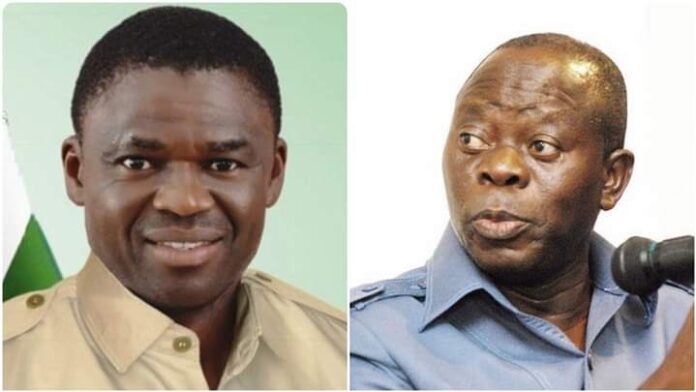 There is no IDP Camp in APC: Oshiomhole Reacts To Obaseki-Shaibu feud
FCGs reports that Oshiomhole has reacted to the rumoured arranged defection of Philip Shaibu (Edo State Deputy Governor) to the APC
Oshiomhole speaking in an interview said
What I read about somebody going to court to complain about being suspected of being impeached, I don't know how courts adjudicate over suspicion.
But let me say this, to say that somebody wants to run to the APC, I want to say APC is not a rehabilitation centre. I can tell you that for free.
We in APC are satisfied the way we are; we are happy in opposition and we are not about to receive people who are coming because they have lost out. I want to say that there is no IDP camp in APC.
So my advice is that those who are having challenges should learn how to respect their bosses. I have always advised people that whoever you work with, be loyal.
Regardless of party divide, it is my wish for Edo to be governed in peace and harmony because the supra party to which we all belong to is the Federal Republic of Nigeria.
The political parties, even the rate of camping and decamping and re-camping, shows that the only thing that is constant is Nigeria and not the political parties.
I was here and I was unable to support my deputy to succeed me, but my deputy never took me to court. And if there are people who always profit from crises, they cannot have my support.
Regardless of what anybody will say, I come from only one of the clans in my local government, it will be nice if only my clan produce the governor but I know that Nigeria doesn't work that way, there are those sentiments that people think that at this level of our development, the thing should go round.
Adam Oshiomhole represents Edo North Senatorial Zone in the red chamber.