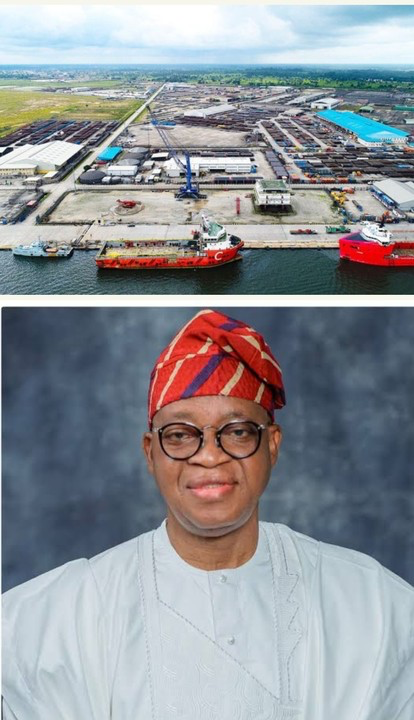 Oyetola condemns physical examination of cargoes by Customs
FCGs reports that the Minister of Marine and Blue Economy, Adegboyega Oyetola has condemned the high rate of physical examination of cargoes at the port by the Nigeria Customs Service.
Speaking during his maiden visit to the head office of the Nigerian Shippers' Council (NSC) in Apapa, Lagos on Wednesday, the Minister said, "The issue of Customs inspecting cargoes physically is archaic. It is something that we need to engage the Customs more. I witnessed the physical examination of a cargo yesterday and I wonder how much it would take to inspect the lots of cargoes piling around."
The Minister also complained about the high number of cargoes uncleared longstanding cargoes at the port.
"I understand that about 6,000 cargoes are lying there at the ports not cleared. There must be an understanding as to when the cargo should be declared abandoned and use due process to sell them off.
"Some of the cargoes we were told have been there since 2011. What is the use of occupying that space? There is no economic advantage for keeping overtime cargoes for that long. We need to engage Customs to see the best way to evacuate them," he said.
Oyetola warned that the present government will not tolerate corruption at the nation's seaports.
"I have gone round to look at the state of our ports, and it is very discouraging. I am not blaming anybody because the ports are old. I would want us to replicate what I saw today at Lekki deep seaport in other places. My concept of port development is more of Public-Private Partnership (PPP), so it is important for us to start thinking about that. The government does not need to own the port hundred per cent. The government would still derive revenue when you look at port efficiency," he said.
In his welcome address, the Executive Secretary of Nigerian Shippers' Council, Emmanuel Jime, expressed delight that the Minister has already shown immense commitment to transforming the economic fortunes of the nation via the maritime sector.
He however highlighted issues requiring government attention which include a proposed amendment of NSC Act to legalise its role as port economic regulator; actualisation of a proposed one per cent freight stabilisation fee on import and export; implementation of the cargo tracking note and establishment of a national fleet.