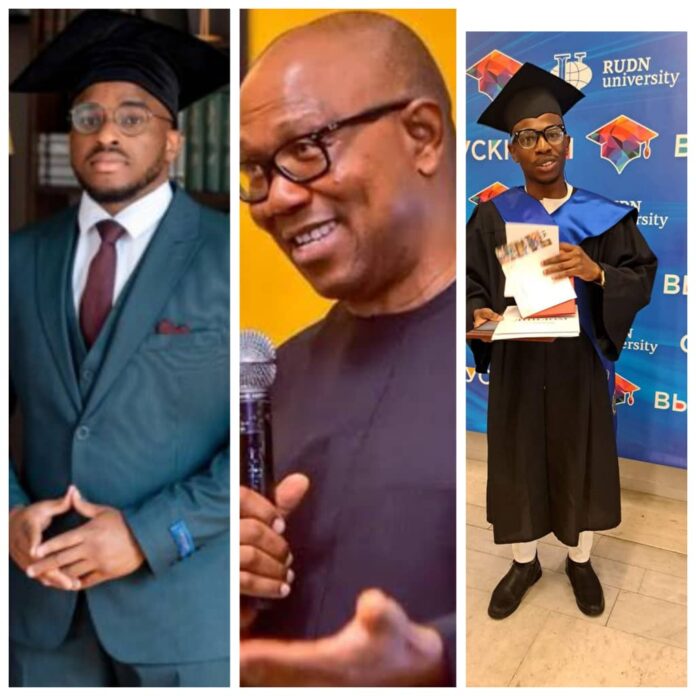 Peter Obi Congratulates Okoro Benjamin And Ekene Okeke
Okeke Solomon Ekene Emerges Best Graduating Student In Russian University
FCG reports that Nigerians are always leading everywhere they go.
A brilliant young man, Okeke Solomon Ekene, has emerged as the best student in a Russian university with a perfect 5.0 CGPA.
Due to his sterling performance, the university also gave him an honorary degree.
From Okija, Anambra, Nigeria to the world, today, history was made!
Best graduating Student 2023,
Valedictorian, 2023,
Best in the Moscow State exam, 2023.
Holder of the 1st degree of the competition for the best graduate dissertation (Golden diploma),
Graduated with the honorary Russian Red diplom (Perfect CGPA).
Congratulations to me.
Thank you RUDN University, Moscow for this opportunity.
Another MSc (Environmental Management and Engineering) bagged!
#phdcontinues
https://m.facebook.com/story.php?story_fbid=pfbid0uKNCVwtf5WD55BaVSvtZTCekVsfnUSHnF2LkUXQ6WL7ah4c26iDN1jfEHaar3E8tl&id=100005669829963&mibextid=Nif5oz
Peter Obi Congratulates Okoro Benjamin And Ekene Okeke
Reacting to this, FCG reports that the Presidential Candidate of Labour Party, LP has taken his official twitter handle to congratulate the duo.
His tweet read
I congratulate the duo of Okoro Benjamin Nzutechukwu and Solomon Ekene Okeke, both Nigerians who recently made the nation proud with their academic exploits in Russian Universities.
According to reports, Mr Nzutechukwu graduated with a First Class Honours in Pharmacy from Voronezh University, Russia while Mr Okeke emerged as the Best Graduating Student 2023, from RUDN University, Moscow, Russia.
While I celebrate their academic feats, I also celebrate the same potential for greatness existing in every Nigerian youth, waiting for the right investments in human development. This can be achieved if our leaders will be willing to go through discomfort and make much-needed painful sacrifices for the good of the nation. I wish Benjamin and Solomon the best in their endeavours and urge them to remain good ambassadors of our nation and to keep our flag flying higher. -PO
I congratulate the duo of Okoro Benjamin Nzutechukwu and Solomon Ekene Okeke, both Nigerians who recently made the nation proud with their academic exploits in Russian Universities. pic.twitter.com/kIALf83J5n

— Peter Obi (@PeterObi) July 10, 2023