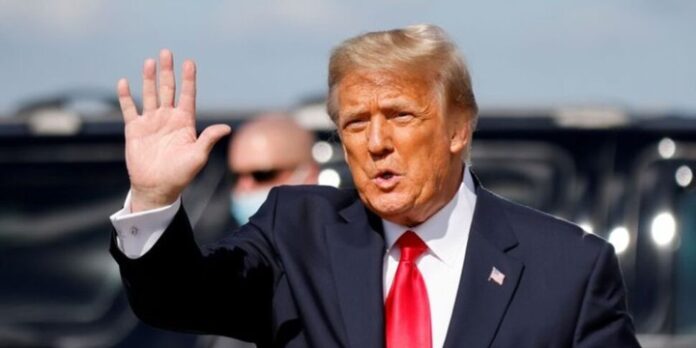 Trump Pleads Not Guilty In Georgia Election Racketeering Case
Ex-President, Donald Trump Pleads 'Not Guilty' In Georgia Election Racketeering Case
Former United States President, Donald Trump, has entered a plea of "not guilty" in the Georgia criminal case accusing him of racketeering and conspiracy in connection with the effort to overturn the 2020 election.
Trump's lawyers submitted the plea in writing and notified the court that he would not appear in person for the scheduled arraignment next week, which is allowed under Georgia law, NBC News reports.
Trump was scheduled to be arraigned on the charges he faces in the Georgia election case at 9:30 a.m. ET on Sept. 6.
Trump was charged with felony racketeering and numerous conspiracy counts as part of Fulton County District Attorney Fani Willis' sweeping investigation into the effort by him and his allies to overturn the 2020 election results in Georgia, an election battleground state.
The United State Federal Court had fixed March 2024 for the hearing of the criminal case against Trump for interfering with the 2020 presidential election.
It was gathered that the new trial date was fixed by Judge Chutkan who set aside Trump's arguments of a two-year delay, Reuters reports.
Recall that Manhattan District Attorney Alvin had previously said he would be flexible on that case if the trial judges agreed.
The trial in Washington, D.C., at a courthouse just feet away from the U.S. Capitol where rioters ran amok on Jan. 6, 2021, takes place late in the 2024 election season – just before Super Tuesday. It adds to Trump's already crowded legal calendar, which includes charges in New York, Florida, and Fulton County, Georgia.
Trump has pleaded not guilty to charges such as conspiracy to defraud the United States, conspiracy to obstruct Congress, and conspiracy against rights for allegedly attempting to disenfranchise millions of American voters by overturning the 2020 election and disrupting the peaceful transfer of power.