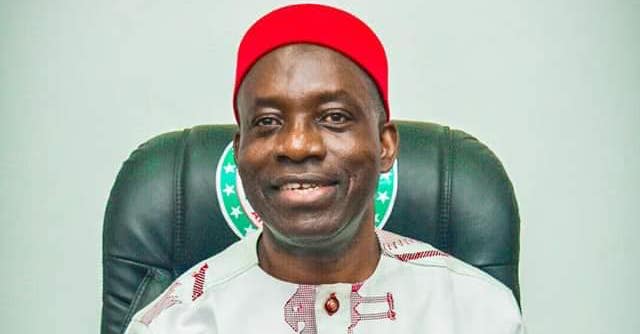 Why Gov Soludo Dodged APGA Governorship Flag-off Campaign At Owerri
AIF Media owned by Southeast political journalist, Eneh Victor reported that governor Soludo was absent at Imo State APGA Governorship Campaign Flag Off yesterday. He sent his Deputy, His Excellency Onyeka Ibezim to represent him but there are strong rumours that Nwa Mgbafor is secretly druming support for Gov Hope Uzodimma's Re-election with the Intention to get the Support of APC in 2025.
Soludo from a close source is afraid that if he comes all out to fund the governorship candidate of APGA in Imo state, that President Tinubu may come all out against his second term in 2025.
As APGA flags off her Guber Campaign in Imo, party faithfuls in the state were in high hopes as they waited patiently for the arrival of their National Leader and the only Governor from APGA extraction, Governor Charles Soludo which would have practically signaled their readiness to make a strong statement in the Guber Election slated to hold on the 11th November 2023 but were disappointed as the governor was conspicuously absent.
He was said to have eloped to ensure he didnt offend APC and president Tinubu. This is to water the ground for his re-election in 2025.
A source alleged that the APGA National leader may have gone into an agreement with the ruling APC to withhold his support for APGA in Imo state.
The governor was to be in Awka yesterday but deliberately dodged the campaign flag off and instead sent his Deputy who has little or no political relevance to represent him at the mischievous grandstanding campaign Flag-off designed to deceive the unsuspecting public and party faithfuls.
This is disappointing because Prof Soludo is showing that he can't be trusted despite his promise to make APGA the beautiful bride in South East Politics.
If this compromise is allowed, then it will bury the sacrifices and legacies of our great Leader Dim Chukwuemeka Odimegwu Ojukwu and Chief Chekwas Okorie who founded APGA.
Soludo should forget his second term ambition having failed to put in the deserved work that will convince Ndi Anambra to re-elect him in 2025. This was exactly how APGA faithfuls were deceived in 2021. Presently, all the party faithfuls who contributed immensely to his becoming Governor have all been shortchanged.
APGA has been very unfortunate.