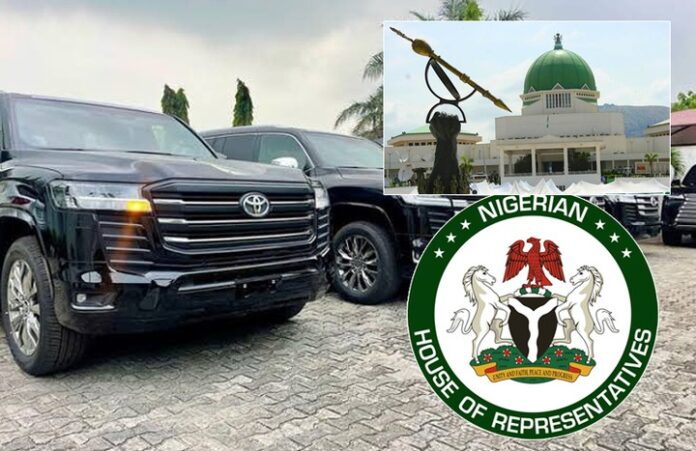 Why Lawmakers Rejected "Made In Nigeria Cars" With Chinese Material
It's been all over the news that the Nigerian government spent over N70 billion on 469 Toyota Land Cruiser SUVs for the members of the National Assembly, to aid them in discharging their duties efficiently.
What's also been on the news is why the Nigerian government such a heavy amount on Japanese vehicles instead of paying auto manufacturers in Nigeria to undertake the production.
For many Nigerians, this wasn't the right move on the part of the government as more than ever (following the country's current economic situation), made-in-Nigeria products need government support and investment to thrive create more wealth, and promote global visibility for the country.
While this has been a subject for debate, the Nigerian Senate spokesperson noted that the government's decision to choose the Toyota Land Cruiser SUV is largely due to the need for vehicles with great off-roading abilities to help reduce the burden of driving through Nigeria's bad roads.
Other reports note that the reason the Nigerian lawmakers rejected Nigerian vehicles is that most Nigerian-made vehicles are not entirely Nigerian, but rather are vehicles developed in partnership with automakers in countries like China, and are remodeled to assume the role of Nigerian-made cars.
The very fact that these are vehicles developed in partnership with Chinese companies is what fuels mistrust in the hearts of many Nigerians when it comes to purchasing Nigerian-made vehicles.
Over the years, there's always been the perception of Chinese vehicles as not suitable for Nigerian road conditions compared to their Japanese counterpart, and by mere partnership of Nigerian automakers with these Chinese automakers, breeds mistrust for many who might be interested in Nigerian-made cars.
In comparison, Japanese vehicles have gained an impressive public perception in Nigeria as they are known for their reliability, durability, and safety. Toyota especially has been lauded as the #1 most reliable car manufacturer across the globe. As such, reasons could be deduced as to why Nigerian lawmakers opted for Toyota vehicles.
The Toyota Land Cruiser in question is one of Toyota's finest collections that boasts not only its off-roading capabilities but also great performance and good fuel economy. Over time, this SUV has also been a favorite for many wealthy Nigerians including those in government offices.
Many top government officials in Nigeria use this vehicle as their official ride, and a series of the Land Cruiser is commonly seen in many government convoys. Not only its performance and good road traction, the Land Cruiser has one of the most luxurious interior design features for an SUV in its category, with spacious two-row and three-row seating capacities (depending on its trim).
Essentially, it can be deduced that Nigerian lawmakers are particularly invested in the Land Cruiser because of its impressive features, and its reputation of being a solid performer.
However, there's still something to be said about investing in automakers in Nigeria to enable them to build better vehicles and form partnerships with brands offering solid vehicle spare parts, which will in turn help boost the country's economy.
Certainly, it'll be a bit difficult for Nigerians to shy away from Nigerian-made vehicles if they are allied with reputable car manufacturers of the likes of Toyota, Honda, and other notable names in the industry. The very fact that their alliances are Chinese brands adds to the layers of scrutiny Nigerian-made face in the Nigerian auto market.
Carmart.ng