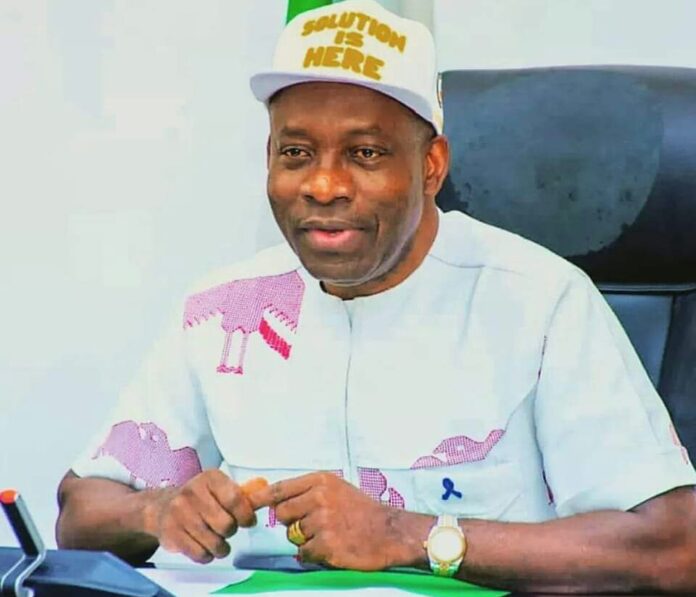 Anambra Traders Evangelism Group Laments Over Change Of Days of Prayers By ASMATA
By Oge Onyeanusi, Onitsha
Traders from  all  markets in  Anambra  State have expressed  their grievances over the illtreatment melted on them by ASMATA leadership, and  lamented  on the change of days of praying  activities in  their  various markets, following the dissolution of  all the  prayer management committees in all the markets in Anambra State  by ASMATA  President-General.
It could  be recalled that  praying activities  normally  organised  on the days choosed by the Anambra State Market Evangelism Committee,  in various markets till  the recent ugly incident that took place at Old Motor Spears  Parts  Mgbuka  Obosi where  the members  of  Anambra Vigilante services  and ASMATA Make Way Task Force invaded  them during  their prayer session and dispersed  them and also stopped  the  prayer.
"We  visited  the  President General of ASMATA in his office, to deliberate  on his new agenda for monday prayer he choosed and he did not allow the prayer committee members  to have a meeting  with  him.rather he choosed  to manhandled us and one of their pastors was slaps and beaten up by ASMATA  President despite their  peaceful visit.
Reacting on the ugly development while speaking to Newsmen in  Onitsha  yesterday the Coordinator  of  Anambra State Market Evangelism Committee (ASMEC) Bro. Sylvanus Anosike who spoke on behalf of their members  expressed  sad  over the beaten of their members and the negligence  done by the  ASMATA Boss Chief  Humphrey Anuna, saying  that  they visited ASMATA office to sought how things will be done for the general welbeing.
Anosike said that  their prayers in all markets normally held on Friday for years during the previous administrations  in the state , but now the  ASMATA  boss wants to change it to be holding on  Mondays, instead of Friday.
According to him , the order given to them by President General of Anambra State Markets Amalgamated Traders Association, Chief Humphrey Anuna , to start  having their market  prayers on Monday being sit-at-home is not a welcome  development   , as  Monday have been allegedly declared  sit-at-home in Igboland  and  in South East generally , to enable the Indigenous People of Biafra to asked for the release of Mazi Nnamdi Kalu .
He listed some market that normally hold their prayers on Friday, this includes ; Head bridge, Ogboefere, Electrical, Building, Relief Market, Electronics, Ochanja and Main Market Onitsha
Anosike who also spoke on the some of paper  issued to  them as
"Notice of dissolution of the prayer unit/group in your market," addressed to the Chairman of Mgbuka Obosi in Idemili North Local Government Area, said: "With utmost respect to your person/ persons, ASMATA has officially dissolved the prayer unit/group in your market with immediate effect.
A letter also issued to them , which was dated August 10th 2023 signed  by the President General of Anambra State Markets Amalgamated Traders Association, Chief Humphrey Anuma, and  Secretary General, Ekwe Macaulay,have  confirmed the development.
In another letter dated August 17, 2023 signed by the Secretary of the Peace and Conflict Resolution Committee of ASMATA, Sir Peter Okala, further confirmed the directive for the dissolution of the Payer Management Committees in all the markets in the state.
Anosike further called on the state government  and also made an appeal to the Gov. Charlse Soludo,  to look into their request and to intervene on their behalf.
In his swift reaction when contacted the President General of Anambra State Markets Amalgamated Traders Association, ASMATA Chief Humphrey Anuna said he gave the directives in order restore normal Monday business activities in various markets in Anambra state.
Anuna who   denied  the allegations of maltreatment, pointed out that  he wanted  the prayer session to be used to introduce sanitation exercise and praying sessions in all markets in Anambra State.