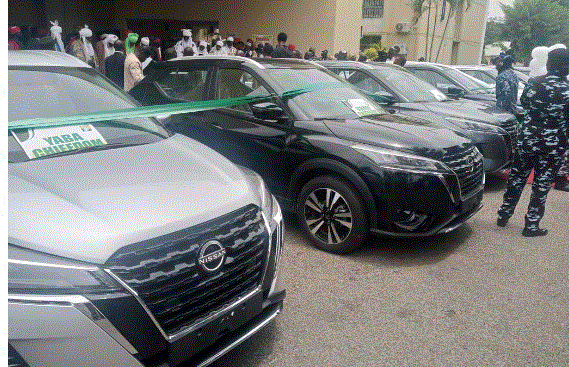 FCT Minister, Wike Presents 10 Vehicles To Ten Traditional Rulers
In a bid to aid traditional leaders in combating insecurity in the nation's capital, the Federal Capital Territory (FCT) Minister Barr. Nyesom Wike delivered 10 official vehicles to ten Third Class Chiefs in the Territory.
This gesture, is in line with President Bola Tinubu's renewed hope program and seeks to give royal fathers the tools they need to carry out their duties successfully, the minister said
Wike, however, underlined the value of cooperation between traditional leaders and the FCT Administration during the presentation in order to ensure peaceful cohabitation throughout the Federal Capital Territory.
He asked the chiefs to diligently do their duty and reflect the government's action in their localities.
He urged the chiefs to carry out their duties diligently, replicating the government's gesture in their communities.
Expressing gratitude on behalf of the traditional rulers, Alhaji Adamu Baba Yunusa, the Ona of Abaji and Chairman of the FCT Council of Traditional Rulers, thanked Wike for the vehicles.
He, however, assured the minister and the government that they would use them to promote peace and security in their respective communities.
The presentation of the official vehicles is seen as a step towards strengthening the relationship between the government and traditional rulers, as they jointly work towards maintaining peace and security in the FCT.