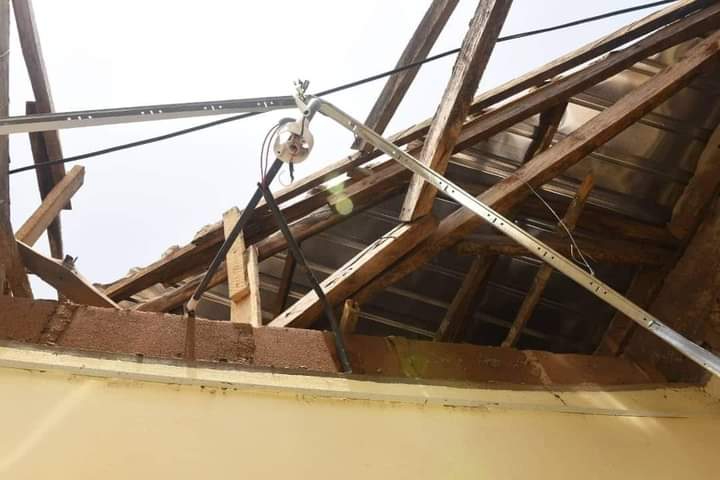 Gombe: DSS Office Destroyed By Rainstorm, Gov Yahaya Commiserates
Governor Yahaya commiserate with DSS, direct for immediate assessment of destroyed facitity for Government intervention.
Gombe State Government has commiserated with the State Command of Department of State Security Service DSS over the destruction of its office complex by rainstorm on Monday, 11th September 2023.
Conveying the Sympathy of Governor Muhammadu Yahaya and the entire people of Gombe State, Secretary to the State Government Professor Ibrahim Abubakar Njodi in company of some Permanent Secretaries,the Executive Secretary of State Emergency Management Agency (SEMA), Principal Private Secretary, PPS to the Governor and some Directors urged officers and men of the State Security Service not to be deterred by the incident in the discharge of constitutional mandate.
Professor Ibrahim Njodi said the Ministries concern have been directed to assess the damage and report to government for timely intervention as well as the State Emergency Management Agency to provide immediate relief especially to offices mostly affected.
While assuring government's continued support to the Service and Security outfits in State, Professor Njodi also appreciated them for working tirelessly to secure the lives and property of residents of the State.
Responding, the State Director of DSS Abba Adams appreciated the timely visit of the Deputy Governor,Dr Manassah Daniel Jatau followed by the Secretary to the State Government is an indication of the State government commitment to the Security and wellbeing of the people.
while describing the incident as saddening the DSS Director praised God for protecting Staff as no life was lost.
Joshua Danmalam
Information officer SSGs office
12/9/23