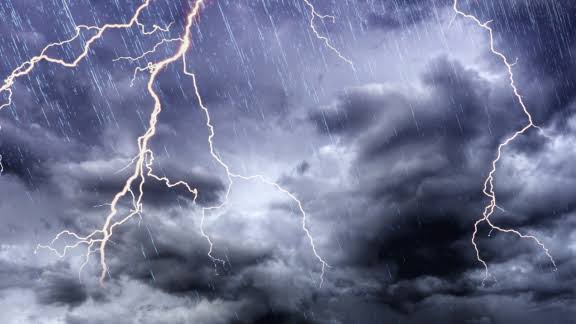 How 3 students were killed by thunderstorm in Awka, Anambra
FCGs reports that three Male Students of a private secondary school (name withheld) in Okpuno, Awka South Local Government Area of Anambra State, have died while playing football on the school field.
It was Gathered that the incident happened last Saturday during rainfall which was accompanied by breeze and thunderstorms.
According to eyewitness, the students were practising on the school's pitch in preparation for a football competition before the lightning started.
The eyewitness said about nine students were involved while six of them were rescucitated later at the school's clinic where they were first rushed to.
The source said, "The boys were practising on the football pitch with their coach in preparaton for a football tournament.
"The coach had ended the practice session before the rains started, but some of the students stayed behind to continue playing football.
"Lightning, accompanied by claps of thunderstorms suddenly enveloped the area and the boys were struck in the process"
Witness reports added that "a teacher heard the students screaming and running. He ran to the field and saw at least nine students trembling and jerking on the turf.
"That was when he raised the alarm and people gathered to help. The boys were immediately rushed to the school clinic, from where they were taken to hospital in Awka.
"Six of the nine boys were resuscitated and are currently receiving treatment, but three did not survive. Their parents have been contacted."
A resident, identified as Hope Egwu, told journalists that the news of the accident went round the community on Sunday before it was made public, adding that everyone had been held spellbound.
At the hospital in Awka, parents and sympathisers trooped into the ward where the survivors were receiving treatment.
When interrogated, a doctor at the hospital, who craved anonymity, said three out of the nine boys were brought into the hospital dead, but six others were revived.
"As of now, parents of two of the dead boys have taken the corpses away, while one is still in the mortuary.
"It is sad that they were playing on the field barefooted. If they had boots on, the impact of the lightning would probably have been minimised,'' the doctor added.
When contacted on the telephone, the school principal, who picked his calls after several efforts, simply said, "I am not in the mood to explain anything or make a statement right now" and thereafter dropped the call.
The state's police spokesman, DSP Tochukwu Ikenga, who was contacted, said the incident had not been reported to the police.