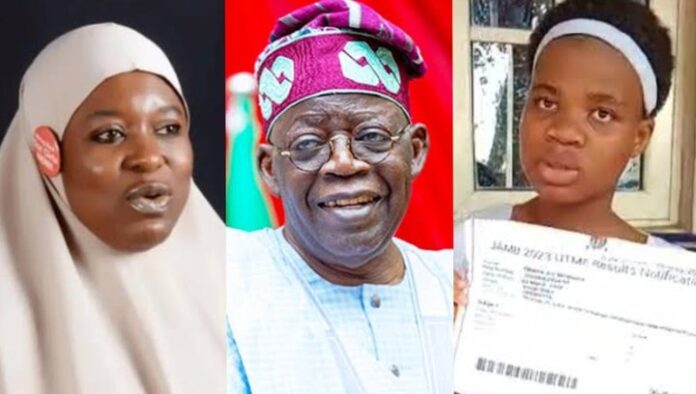 Mmesoma's result forgery was inspired by Tinubu, INEC – Aisha Yesufu
FCG reports that Aisha Yesufu, a human rights activist, said on Saturday that the country's flawed electoral system has allowed more pupils to engage in exam malpractice.
FCG gathered as she tweeted in response to a thread started by former minister of state for labour and employment, Festus Keyamo.
Mr Keyamo's post was in response to Ejikeme Mmesoma admitting that she forged her Unified Tertiary Matriculation Examination (UTME) test scores.
FCG recalled that the Joint Admissions and Matriculation Board (JAMB), on Sunday, accused Ms Mmesoma of manipulating her UTME results from 249 to 362. Instead, the candidate who had insisted on her innocence later confessed to falsifying her results via an independent panel of inquiry set up by the Anambra State Government.
Reacting to the revelation, Mr Keyamo said he had reserved his comment regarding the controversies over Ms Mmesoma UTME scores.
Mr Keyamo, while describing the student as "a brilliant girl, judging by her actual score of 249," also cautioned critics against damaging her with their opinions.
"What she needs is counselling, correction and guidance. She obviously did not know the weight and gravity of what she was doing. As teenagers, most of us made juvenile mistakes that never came to light.
But Ms Yesufu, in an attempt to politicise the matter, said issues arising from the country's electoral system may have prompted pupils like Ms Mmesoma to forge her result, saying, "If Tinubu can do it, why not they?
"Tinubu fraudulently occupying the highest political office in the land through forgery and rigging is what is most unfortunate and has given room for more children to say if Tinubu can do it, why not they?
"Reason Nigerians must focus on the judiciary to do the needful!," her tweet reads.