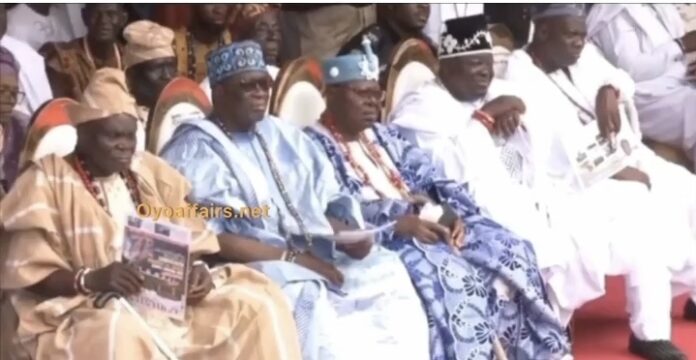 Moment Obasanjo orders Oyo traditional rulers to stand up and greet him
A former president, Olusegun Obasanjo, on Friday, reaffirmed the constitutional superiority of elected officials when he mandated some traditional rulers to stand up and greet him.
Obasanjo gave this order at the commissioning of a 34.85 km Oyo-Iseyin Road and the Ladoke Akintola University of Technology, Iseyin Campus, which houses the College of Agricultural Sciences and Renewable Natural Resources.
The ex-president, who spoke in Yoruba, stated that despite the traditional rulers' status, it was crucial for them to respect elders and those in positions of power.
According to him, doing this will enable the preservation of the Omoluabi culture of the Yorubas.
"Thank, you. Please, be seated. Firstly, I greet you all monarchs and royal fathers and thank you for coming," he said. "But let me make something clear: whenever the governor or the president is present, even the royal father must stand up to honour the president (or the governor)."
"Stand up! You can have your seat. Please!!!" he ordered them.
The statesman said, "In our (Yoruba) culture, we honour two main things: age and position. The governor's position is higher than that of any monarch in as much as he is still the governor".
He said even when he was the president, he honoured traditional rulers, adding that it is imperative for culture and value systems to be promoted.
The retired military officer served as Nigeria's head of state from 1976 to 1979 and later as its president from 1999 to 2007.