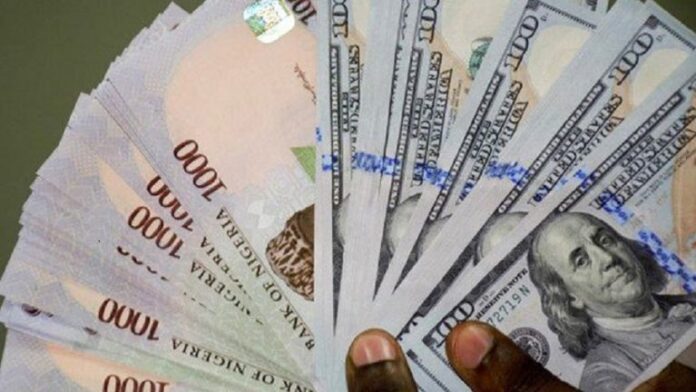 Naira continues to gain at N950 per 1$
The naira continued its rebound against the dollar on Friday, strengthening to N950/$ on the average in the parallel market.
This represents a N170 gain or a 15.18 per cent appreciation of the local currency compared to the N1,120 it traded for on Thursday. This is also the second day of recovery for the naira following a move by the Central Bank of Nigeria to clear some of its FX backlog on Thursday.
According to Bureaux De Change operators, who spoke to The PUNCH, the naira is still gaining as the market continues to react positively to the CBN's move.
A trader who only gave his name as Awolu said, "The dollar is N950 today if you want to buy it."
Kadri, another trader, stated that he currently buys at N900/$ but sells at N950. He declared, "Dollar is coming down. It is N900 if you want to sell. But is N950 if you want to buy."
Taura, another currency trader, stated that the naira was N1,015/$ in his area. He told The PUNCH, "If you want to sell, it is N980. But if you want to buy it is N1,015."
Naira weakens to 1,180/$ after recent gains
Muhammad, added, "The naira is falling drastically. It is still failing. It is N970 now. The difference between buying and selling is N10."
The President of the Association of Bureaux De Change Operators of Nigeria, Aminu Gwadabe, affirmed to The PUNCH on Thursday that the CBN's move to clear some of its backlog has been responsible for the firming of the naira.
He said, "Yes, this is because of the CBN's move to clear its backlogs. There is a kind signal in the market. The CBN should continue to make clarifications."
On Thursday, The PUNCH reported that the apex bank of the country had commenced the payment of outstanding matured FX forwards owed to various creditors.
Unconfirmed sources noted that three banks, namely Citi Bank, Stanbic IBTC, and Standard Chartered Bank, received full payment of debts owed from the CBN.