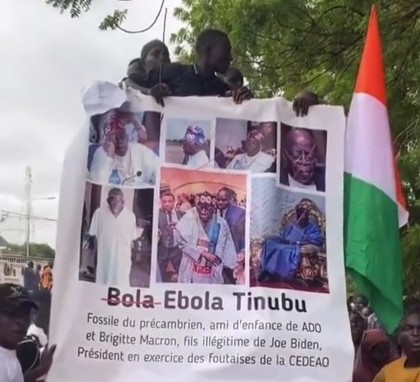 Coup: Niger Citizens Protest Against Tinubu In Niamey (Photos, Video)
FCGs reports that Niger Republic Citizens in Niamey Protest Against Nigeria's President and ECOWAS Chairman, Bola Ahmed Tinubu.
Nigerians protest against President Bola Tinubu Over Plots To Remove The Coupists
FCGs gathered that the protest in Niger Republic against Tinubu who is the chairman of the Economic Community of West Africa (ECOWAS) is coming after a coup in the country which removed the democratically elected President, Mohamed Bazoum.
It is also coming after BBC reported that Nigeria cut off power supply to Niger Republic in line with an order from the Nigerian presidency.
ECOWAS has already said that military response will be the last option it will seek to restore the democratically elected government removed by the military junta.