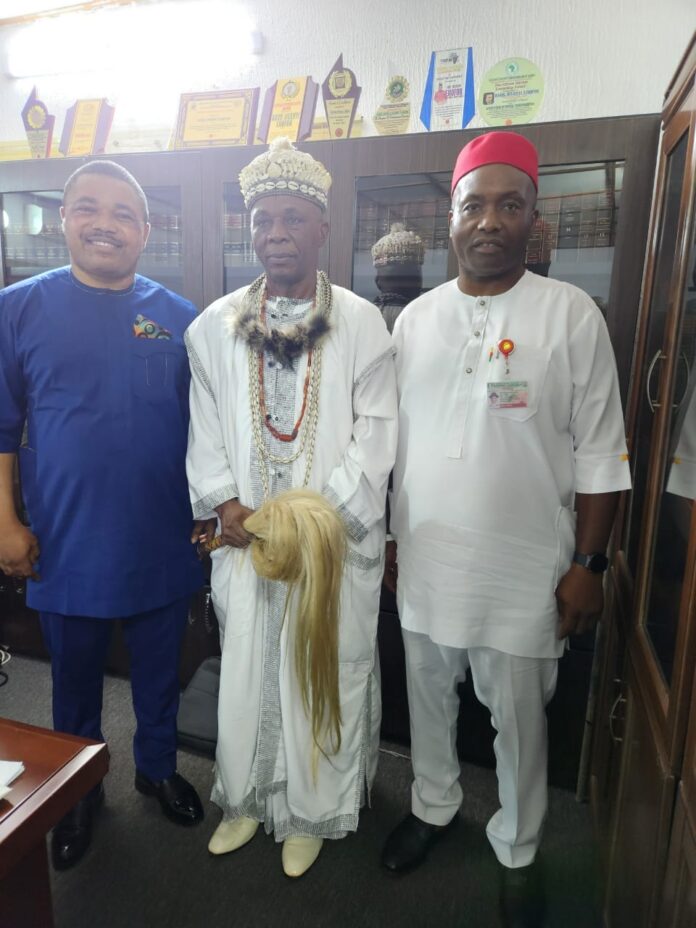 Senator Andy Uba Visits Nnamdi Kanu (Photos)
FCGs reports that Senator Andy Uba and Majesty, Eze Chukwuemeka Eri of Aguleri today visited the detained leader of the Indigenous People of Biafra (IPOB), Nnamdi Kanu, at the State Security Service (SSS), Abuja.
Taking to his Twitter page, Nnamdi Kanu's counsel, Ifeanyi Ejiofor who joined them in the visit shared photos from the visit with the caption;
"UPDATE ON ROUTINE VISIT TO OUR INDEFATIGABLE CLIENT – ONYENDU MAZI NNAMDI KANU, AT THE HEADQUARTERS OF THE STATE SECURITY SERVICE (SSS), ABUJA, WHERE HE IS STILL BEING ILLEGALLY AND UNCONSTITUTIONALLY DETAINED IN SOLITARY CONFINEMENT:
Onyendu Mazi Nnamdi Kanu was today visited by the duo of His Majesty, Eze Chukwuemeka Eri, Eze Akajiovo Igbo Nile, Ezeora XXXIV of Aguleri, and Distinguished Senator Ifeanyi Uba, at the facility of the State Security Service (SSS) Headquarters Abuja where Onyendu is still currently being held in solitary confinement.
The visit was unprecedented, as fruitful and productive discussions were exclusively held with Onyendu. During this visit, Onyendu reiterated his firm and unequivocal condemnation, and total cancellation of the senseless sit-at-home in the South-East, hitherto enforced in the entire South-East states by the enemies of our people.
Other crucial messages conveyed to them by Onyendu will be made public as given by Onyendu in due course.
Be assured UmuChineke that we are speedily approaching the end of the tunnel. ChukwuOkike Abiama is always on the throne, and this trying period will soon become history.
Thank you all, Ezigbo UmuChineke, and remain blessed.
We move!
Signed:
Sir Ifeanyi Ejiofor, Esq. (KSC)
IPOB's Lead Counsel
3rd August, 2023."
UPDATE ON ROUTINE VISIT TO OUR INDEFATIGABLE CLIENT – ONYENDU MAZI NNAMDI KANU, AT THE HEADQUARTERS OF THE STATE SECURITY SERVICE (SSS), ABUJA, WHERE HE IS STILL BEING ILLEGALLY AND UNCONSTITUTIONALLY DETAINED IN SOLITARY CONFINEMENT:

Onyendu Mazi Nnamdi Kanu was today visited… pic.twitter.com/ievbtLSawp

— bar ifeanyi ejiofor (@EjioforBar) August 3, 2023