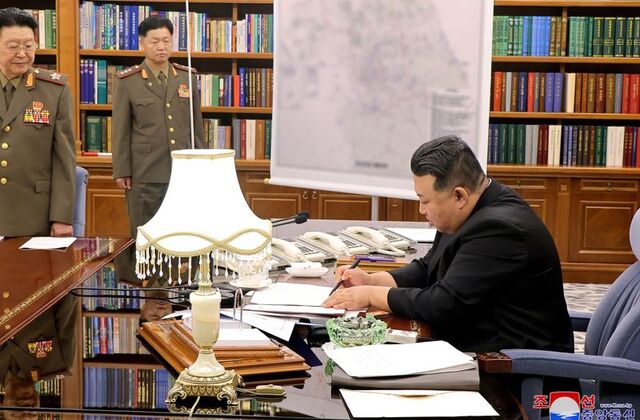 North Korea leader replaces top general, call for preparation of war
FCGs reports that North Korean leader, Kim Jong Un has reportedly replaced his top military general and called for preparations for the possibility of war.
Pak Su Il, North Korea's Chief of the General Staff, was 'dismissed' after about seven months in the role, Korean Central News Agency reported.
He will be replaced by General Ri Yong Gil, the previous army chief of staff. It is unclear whether he will continue in his role as defence minister.
Meeting with the Central Military Commission today, Kim also called for expanded military production, the testing of new equipment, and 'actual war drills'.
According to KCNA, the conversations with the Commission this week were to talk through the 'issue of making full war preparations' to ensure 'perfect military readiness for war'.
The change in gears comes as the United States and South Korea prepare for a large-scale combined military exercise.
State media said Thursday's meeting with the ruling party's Central Military Commission was to discuss advancing his military's war readiness.
The meeting also sought to establish offensive countermeasure plans to deter adversaries, which state media said were getting more blatant in their 'reckless military confrontation' with North Korea.
In recent days, Kim has stepped up demonstrations, test-firing more than 100 missiles since the start of last year.
The escalation has driven tensions on the Korean Peninsula to the highest point in years.
Experts say Kim's nuclear push is aimed at forcing the United States to accept the idea of the North as a nuclear power so he can eventually negotiate economic and security concessions from a position of strength.
After talks of boosting North Korean frontline units and stepping up war drills to incorporate new strategies and weapons, Kim signed an order to implement unspecified 'important military measures,' Pyongyang's official Korean Central News Agency said.
He stressed that the military must acquire 'more powerful strike means' to bolster his nuclear deterrent and make speedier deployments of those weapons to combat units.
He called for the country's munitions industry to step up mass production of various weapons and systems, and for the military to actively conduct 'actual war drills' to digest those systems and enhance its war-fighting capabilities, KCNA said.