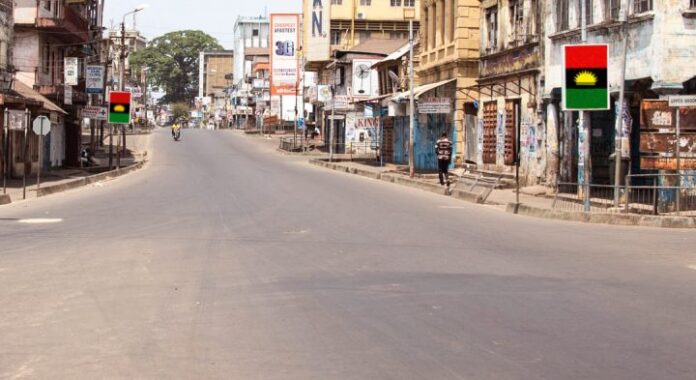 According to a Facebook user, Kamen Chuks, Ebonyi state must be doing something different that Anambra needs to understudy
The activist Kamen Chuks in his facebook handle wrote
The arrest of those bandits in Ebonyi state yesterday, just a few days after indiscriminately firing at market women in the name of enforcing sit-at-home ,was indeed an eye-opener.
Now we know why there is no sit-at-home in Ebonyi State and the people move around confidently as they go about their legitimate businesses on Mondays
They have a security arrangement in place that works !
The Monday sit-at-home is not a freewill decision by ndi igbo but rather one that is only observed in places where fear rules the land and that once the people feel secure by providing them with adequate security ,they come out to carry out their daily businesses without fear .
In Ebonyi State ,both the residents and the security agencies work hand in hand.
It is a state where the maxim , "if you see something, say something," works, and the people provide the security agencies with credible intelligence with which they operate.
In Anambra State, Senator Dr. Ifeanyi Ubah has indeed done remarkably well by bringing this issue of insecurity to the front burner of public discourse in Nigeria and by embarking on the delivery of a sound security architecture to Anambra South Senatorial District even as a legislator.
Nnewi North (the economic and political capital of the Senatorial District) and testing ground of the pilot security scheme is now liberated with people going about their legitimate businesses without fear of attacks.
While other Local Government Areas in Anambra South Senatorial District will soon follow after the security summit billed for this month in lagos where Senator Ubah intends to engage with and galvanise critical stakeholders from the district.
You do not sing lullaby to a non state actor brandishing arms or engage him on grammer speaking debate
You simply speak to him in the language that he understands.
But then,there is a need to understand from the Ebonyi example that it will take greater synergy between the State ,the security agencies, and the people for our homeland, Anambra, to become properly secured.
It is indeed the prayer of every Onye Anambra that this phase passes us by, and the people become free once again to carry out their bussineses on Mondays without fear of molestation or bodily harm.