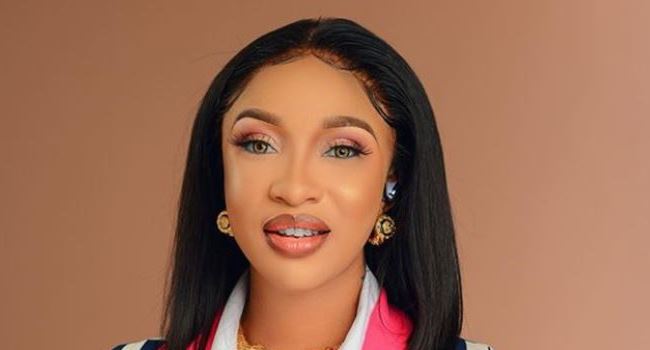 Tonto Dikeh vows to keep contesting until she wins
FCG reports that the Rivers State deputy governorship candidate of the African Democratic Congress in the 2023 election and popular Nollywood actress, Tonto Dikeh, said on Saturday she would not stop contesting the election until she realised her ambition.
She said her chances of governing the oil-rich state in the future were both high and slim because politics is dirty.
FCG learnt this from her, interview with journalists in Abuja during the GOTNI national leadership conference, organised by its National Leadership Centre with the theme, 'Leadership for sustainability.'
According to a report by TRIBUNE, she said, "One of the things I learnt (in contesting the election) is resilience and never giving up. I know after four years, they will forget about me and that, 'she is not going to come back.' But I am going to come back. Every four years, I am going to come back. I will come back and I will be in their faces. I will be coming back to the contest.
"My chances (of becoming governor) are high and slim because politics is dirty. It's not going to be free and fair. (Nyesom) Wike's candidate didn't win free and fair. So I don't expect politics to be free and fair, but I expect that, as someone said, having a lion's heart requires taking the lion's share.
"I won't care what they think about my position, I will keep having the lion's share, whether it is my personal life or politics, I am here to stay and they have no choice but to accept it."
According to her, leadership is something that Nigerian youths need, especially now when they are all striving for a better Nigeria and a better life.
Dikeh said, "I said something; I said that the youths are restless. They are young, they are vibrant, and this is the time for them to do things. They cannot achieve those things if they do not fall under the platform of leadership.
"I contested for the position of Deputy Governor of Rivers State under the ADC and I saw how the older politicians perceived me like, ooh! This girl came to joke but I told them I didn't come to joke.
"I made them understand that I came to fight. I might not have won but it will go down in history that I contested against Wike or Wike's boy or the other big shots that I contested against.'
The celebrity said one of the reasons why the elderly look down on the youth is because they lack leadership, while the older class does not see what they should be seeing in the younger people.
"They are not totally wrong; I saw what happened during the #EndSARS saga. There was no form of leadership. I personally did not want to indulge in that because, after investing so many millions on GOTNI Leadership Centre and attending programmes almost every three months, I would not go into a fight blind without a leader or without a structure.
"It was structureless, and these are the things that the elderly politicians look at us and say that these people are not ready. We need to put ourselves in the position of power, and it is not just contesting; it is actually being power yourself, and I don't think we have gotten there yet as it is," she stated.
According to the CEO of GOTNI Leadership Centre, persons occupying leadership positions in Nigeria do not have the prerequisite leadership training that is necessary for them to function effectively.
He said the conference provided the opportunity for managers and executives in private and public organisations to strengthen their leadership capacities, establish new networks, and develop the capacity to maximise the potential of their existing networks to the advantage of their institutions.
Through a series of cutting-edge leadership conversations, and thought-provoking panel discussions, Okorie said the conference aimed to reinforce the need for leadership development for organisational and national leaders.
"The truth of the matter is that no organisation has made progress unless there is sustainable leadership capital. Over the years, the history of Nigeria has been filled with a deficit of leadership capital, many people who are promoted into leadership positions, do not have the prerequisite leadership training that is necessary to be able to make those roles work for them effectively.
"You have seen organisations die and people are wondering: Why is this organisation that has so much future? Why is this institution that has the most promise, why did it just disappear, why did it die? The results are simply because of the fact that a lot of the people who work with the organisations lacked leadership principles and values, and models that are necessary to drive organisations," she said.
She said GOTNI, over the years, has consistently organised leadership conferences, emerging leaders conferences, and different programming to enlighten Nigerians on the great need for leadership development.