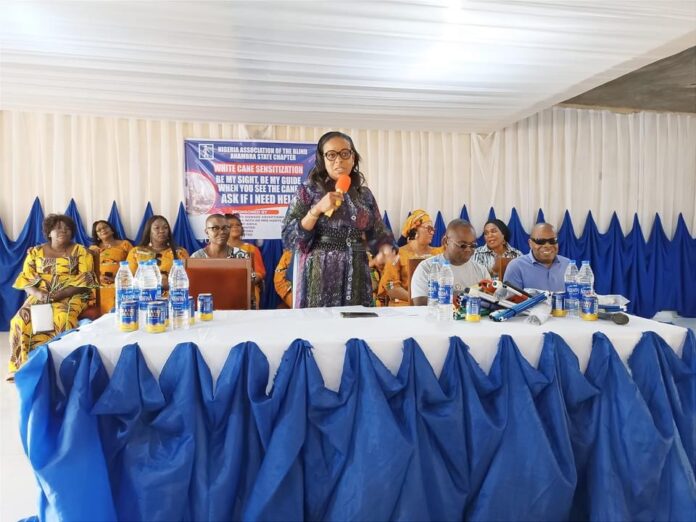 White Cane Campaign: Be my sight, Be my Guide – Anambra blinds cry out
WHITE CANE CAMPAIGN OFFICIALLY UNVEILED TODAY
"Wherever and whenever you encounter a visually impaired individual, kindly approach them with the question, 'How may I be of help?' These heartfelt words were spoken by Mrs. Nonye Soludo, the wife of the Executive Governor of Anambra State, during the unveiling of the inaugural White Cane Campaign for the Visually Impaired, organized by the Anambra State Signage & Advertisement Agency – ANSAA
In honour of the 2023 White Cane Safety Day, Anambra State Signage and Advertisement Agency-ANSAA through her Corporate Social Responsibility Project, with the support of the wife of Anambra State Governor Mrs. Nonye Soludo and Rotary Club of Awka marked in a special way, 2023 White Cane Safety Day for the Visually Impaired by extending support to the National Association for the Blind, Anambra State Chapter.
Speaking on Healthy Living for the Visually Impaired, Mrs. Nonye Soludo said, "Aware of so many challenges that people with impairment face in search of jobs and other helpful vocations, we've concluded that these people will henceforth be given special attention in any recruitment process that involves the state government. We'll also look at other ways to make it easier for these special people. Of course, my NGO will continue to partner with them in helpful areas."
The MD/CEO of Anambra State Signage and Advertisement Agency-ANSAA Mr. Tony Odili Ujubuoñu appreciated the wife of the Governor for partnering with ANSAA in this White Cane Campaign program. He further explained that what ANSAA sells is "Anya Ora" which is the opportunity to see. We sell the opportunity to see through signages and advertisements and because the visually impaired cannot see what we sell, we decided through our Corporate Social Responsibility Project to give back to them so as to enable them to see and enjoy what other people in the society enjoy.
The National Association of the blind expressed their appreciation to Anambra State Signage and Advertisement Agency-ANSAA and the wife of the Governor of Anambra State for the special celebration and support, thereby making the visually impaired in Anambra State feel that indeed, SOLUTION IS HERE!
The White Cane Campaign for the blind message is clear "Be my sight. Be my guide. Whenever you see the cane, ask if I need help." Ndi Anambra needs to understand that the White Cane is a tool for visually impaired individuals to navigate their surroundings safely and independently. There's no need to shout warnings or physically interfere with the movement of their cane so they don't bump into things. Remember that they are only using their canes to explore what is around them. If you encounter someone with a white cane, do not hesitate to help them, if they need assistance. If you are driving or cycling and see someone using a white cane, please kindly stop to give that person the right of way.
#WhiteCaneCampaign
#ANSAACSR
#ANSAA