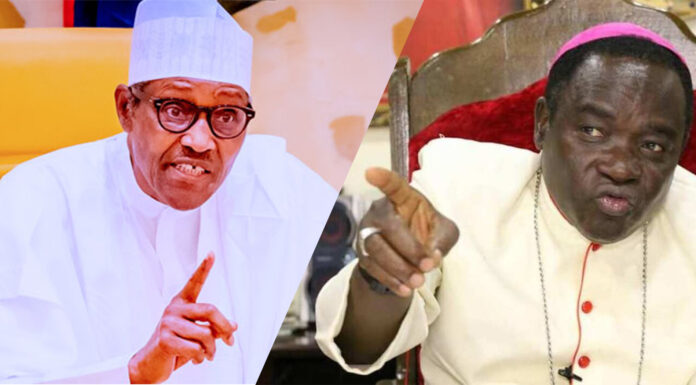 Kukah Only Angry Buhari Didn't Patronise Him – Adesina
FCG reports that Femi Adesina, a spokesman for ex-President Muhammadu Buhari, says the Bishop of the Catholic Diocese of Sokoto, Matthew Kukah, is still pained that the former head of state didn't patronise him (Kukah) as Nigeria's President.
FCG gathered that the ex-presidential spokesman stated this in a tweet on Tuesday hours after the cleric said Nigerians witnessed the worst phase of corruption under the Buhari administration.
Kukah who spoke on Monday while delivering a keynote speech at the 60th call-to-bar anniversary of legal luminary, Aare Afe Babalola, in Ado Ekiti, the capital of Ekiti State said though corruption did not start under the last administration, the Buhari government amplified it in the last eight years.
He continued "We have seen the worst phase of corruption in Nigeria, Femi Falana, my friend here will speak about that because he has published a series of articles talking about what happened under the Buhari administration.
"They were not the ones who caused corruption but I think in the last administration, we saw the ugliest phase of corruption whether in moral terms, financial terms and other terms," Kukah said.
Reacting, Adesina said, "Who listens to that Bishop again? He's still pained that he got no under-the-cassock patronage from Buhari, unlike in the past. As e dey pain them, e dey sweet us."
Who listens to that Bishop again. He's still pained that he got no under-the-cassock patronage from Buhari, unlike in the past. As e dey pain them, e dey sweet us.

— Femi Adesina (@FemAdesina) July 11, 2023