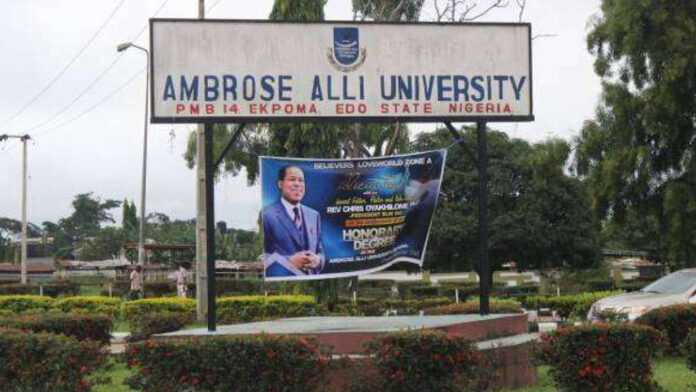 AAU suspends academic activities over continuous protest on hike of fees
FCGs reports that academic activities at the Edo State-owned Ambrose Alli University (AAU), Ekpoma, have reportedly been suspended as students of the institution stage peaceful protests over alleged 75 percent increment in their tuition fees.
According to a memo issued and signed by the Acting Registrar, Ambrose Odiase, the decision to suspend academic activities was taken at an emergency meeting of the University's Senate held on Monday September 4, to appraise the continued protest by students. Also put on hold indefinitely is the 40th Matriculation Ceremony of the University scheduled today, Tuesday, 5 September, 2023.
"In order to prevent a total breakdown of law and order as well as the need to guarantee the safety of lives and property in the University community and its environs, Senate was left with no other choice than to direct an immediate suspension of academic activities. To this effect, all students residing in the hostels on campus are to vacate the Halls of Residence without fail within the next twenty-four (24) hours," the memo said
By the notice, no student is expected to be seen in or around the University's halls of residence by 3:00 p.m. on Tuesday, 5 September 2023.
The students over the weekend began a protest over the 75% increment in their tuition fee. The protests which took place at the institution's entrance disrupted academic and administrative activities in the university. The students said they would continue the protest till the state government and the institution's management respond to their demand.
Students of the institution say this is the second time the management would be increasing school fees during her time in the school.
One of the students said;
"My tuition is N206,000. But on Wednesday, the school management announced additional N100,000, taking my tuition to N306,000."
She added that there are other sundry levies they were asked to pay, saying, "the burden is too much for our parents."
Reacting to the protests, the Head Corporate Communications and Protocol of the institution, Otunba Mike Ade Aladenika, said the tuition increment is not as astronomical as the students claimed.
"The tuition adjustment was for only 100 level, direct entry students and sundry charges for returning students." he said